Information for Capacity Builders
For Those Interested in Providing Technical Assistance through the Thriving Communities Program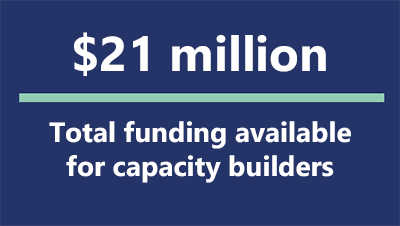 The U.S. Department of Transportation (DOT) sought applications from eligible applicants interested in providing technical assistance, planning, and capacity building support to disadvantaged communities to help them build the technical tools and organizational capacity to compete for federal aid and deliver quality infrastructure projects that enable their communities and neighborhoods to thrive.
FY22 Notice of Funding Opportunity Is Closed
The FY22 Notice of Funding Opportunity (NOFO) for the Thriving Communities Program (TCP) closed on November 29, 2022. 
Sign up to receive program updates by email. For questions, contact ThrivingCommunities@dot.gov.
Eligible Applicants
Organizations eligible to apply individually or as part of a team for this Notice of Funding Opportunity include the following:
Non-profit organizations
State or local governments and their agencies
Indian Tribes
Philanthropic entities
Other technical assistance providers with a demonstrated capacity to develop and provide technical assistance, planning, and capacity building
DOT encourages interested applicants to partner with other eligible organizations to form Capacity Builder teams whose members bring technical knowledge across a diverse set of issues and skills, including meaningful public involvement in transportation decision-making processes and project delivery.
DOT will view applications favorably that demonstrate clear involvement of small or disadvantaged business enterprises and/or community-based organizations. 
Areas of Support
Selected Capacity Builders will build out and deliver a two-year technical assistance, planning, and capacity building program that responds to three areas of support:  
Delivering individualized deep-dive technical assistance, planning, and capacity building to selected communities across a set of project scoping, pre-development, and grant application activities through planning, project funding and financing, and project delivery 
Establishing and managing a national Community of Practice to advance policies, practices, and projects informed by meaningful public involvement and partnership 
Providing targeted technical support as part of the national TCP capacity building network 
How Will DOT Make Selections?
DOT anticipates awarding at least three separate cooperative agreements to applicants who demonstrate the ability to develop and provide technical assistance, planning, and capacity building tools to all communities within the specific cohort they are assigned to support.
DOT will review complete and eligible applications and evaluate them based on the applicant's proven success, quality project management, alignment with DOT priorities, centering community, flexibility and innovation, and impact size and longevity.
See Section E of the NOFO for more detailed information about the review and evaluation process.
Last updated: Monday, December 19, 2022