Federal Tools to Determine Disadvantaged Community Status
How do I know if my community meets "disadvantaged community status" for a DOT grant?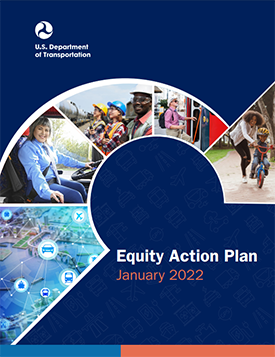 President Biden signed Executive Order 13985: Advancing Racial Equity and Support for Underserved Communities Through the Federal Government, establishing a whole of government approach to advancing equity and opportunity. This includes coordinating government programs to address environmental justice efforts through the Justice40 Initiative, which aims to deliver 40 percent of the overall benefits of relevant federal investments to disadvantaged communities.
USDOT's Equity Action Plan outlines the comprehensive approach the Department is taking to advance equity. 
The Bipartisan Infrastructure Law (BIL) provides an unprecedented level of discretionary grant funding that can directly benefit disadvantaged communities in urban and rural areas under the Justice40 initiative. Yet 69 percent of transportation funding is allocated by formulas set by statute. The formulas are not required to account for equity, limiting the Department's ability to direct resources to underserved, overburdened, and disadvantaged communities.
Among the ways the DOT is implementing Executive Order 13985 is to ensure that its discretionary programs include consideration of impacts to historically underserved or overburdened communities, and to equitably deliver resources and benefits to these disadvantaged communities. This includes priority preference in several programs. 
Refer to the specific program Notice of Funding Opportunity (NOFO) for information on whether disadvantaged community status is given priority in application consideration or in requirement of local match. The specific program NOFO will describe how disadvantaged community status (or other similar status such as environmental justice, area of persistent poverty, or other Federal designations) will be considered.
Federally recognized Tribal governments meet disadvantaged community status. Many rural communities do as well; however, definitions and eligibility of what is considered "rural" vary across USDOT programs. Check Rural Eligibility for definitions by program.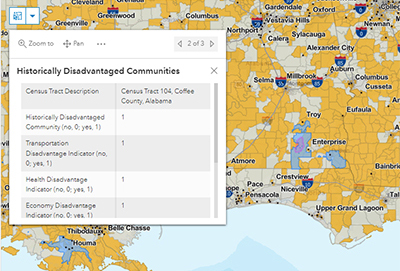 Transportation Disadvantaged Census Tracts (arcgis.com)
Transportation Disadvantaged Census Tracts is the most commonly used tool in USDOT discretionary grant programs to determine disadvantaged community status. The tool allows the mapping of project areas to determine level of disadvantage according to DOT's Justice40 definition.
Areas of Persistent Poverty & Historically Disadvantaged Communities
Areas of Persistent Poverty & Historically Disadvantaged Communities lists Census Tracts that qualify as Areas of Persistent Poverty & Disadvantaged Communities according to DOT's Justice40 definition.  
EJScreen: Environmental Justice Screening and Mapping Tool (EPA)
EJScreen is an environmental justice mapping and screening tool that provides demographic and environmental information for a project area. 
The Climate and Economic Justice Screening Tool (CEQ)
Currently in BETA form, the Climate and Economic Justice Screening Tool identifies disadvantaged communities that are marginalized, underserved, and overburdened by pollution.
While in BETA form, CEQ asks that transportation projects use DOT's Transportation Disadvantaged Census Tracts tool to identify disadvantaged communities.
Social Vulnerability Index (CDC)
The Social Vulnerability Index provides databases to help emergency response planners and public health officials identify and map communities that will most likely need support before, during, and after a hazardous event.
Last updated: Monday, August 15, 2022