We're looking for a few good... Champions of Change
The work we do at DOT cannot be done without our partners. Whether we're investing in safety, seeking innovation, or solving regional transportation challenges, success often depends on exceptional groups and individuals doing the heavy lifting and setting the bar high for the rest of us. That's why the Obama Administration has been recognizing Champions of Change in different fields, including transportation.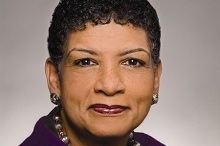 Like previous winner Beverly Scott--the MARTA CEO who actually painted red X's on Atlanta buses to show what transit service cuts would mean to commuters--one person with one idea can make a world of difference.
And just as that holds true with transit in Atlanta, it also holds true in the difficult challenge of connecting people to ladders of opportunity like good jobs, education, and important services.
But our country's continued economic growth depends on meeting that access challenge, so this May, DOT and the White House Office of Public Engagement will host a Champions of Change event focused on Transportation and Ladders of Opportunity.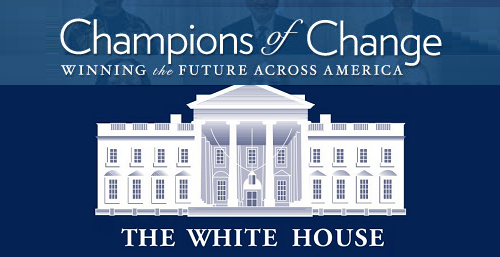 Selected Champions will be individuals who have provided exemplary leadership to ensure that transportation facilities, services, and jobs help individuals and their communities connect to 21st century opportunities. A champion's work may include transportation projects, services, or advocacy across any mode of transportation.
Examples include:
Providing leadership in planning, design, and development of innovative transportation solutions that result in connected communities
Advancing the use of equity based performance measures and planning initiatives at the state and/or community level.
Developing and/or implementing transportation safety strategies or  innovative transportation safety programs for communities for minority, older adults, limited English proficiency or other at-risk communities
Establishing transportation workforce training initiatives for disadvantaged workers, including at-risk youth, minority, low income, women, veterans, people with disabilities and others
Implementing innovative public engagement strategies that ensure full participation by all citizens across the community.
Providing strategies for streamlining project delivery that provide efficiency and economic benefits for the community.
Demonstrating best practices in environmental justice related to transportation projects
Advancing innovative strategies for utilizing disadvantaged businesses in transportation projects.
Demonstrating leadership in efforts to enhance transportation services for people who may not have access to personal vehicles, including people with disabilities, older adults, and/or people with lower incomes.
Applying technologies that advance access to transportation for underrepresented communities.
If you know of someone making a difference in one or more of these ways, help us share their achievement by nominating them as a White House Champion of Change today!
Nominations are due by Thursday March 27, 2014, and we've made it easy by offering you two ways to submit your nomination:
However you share your nomination, please let us hear from you. It's a great way to recognize someone making a difference in their community. And it's a great way of inspiring other problem-solvers and innovators to continue pursuing their work.
In his blog post yesterday, Secretary Foxx talked about the important quality of "good, old-fashioned American inventiveness." Today, we're asking you to help us shine a light on that quality, wherever you find it.