V2V: Cars Communicating to Prevent Crashes, Deaths, Injuries
Communication is a key ingredient for success: in business, in personal relationships, and even in sports—as we saw in last night's Super Bowl. Soon, it will also become an essential factor in automotive safety due to a technology known as vehicle-to-vehicle (V2V) communications.
V2V allows cars to "talk" to one another—exchanging basic safety-relevant data, such as speed, direction, and relative position—10 times per second. When cars share this information at such a fast rate, they can "see" all of the vehicles around them, sense the possibility of a crash, and warn drivers to avoid the crash.
Today, I was proud to announce another big step in V2V: After years of research and unprecedented coordination between industry and across government, the National Highway Traffic Safety Administration is announcing its decision to begin taking the next steps toward implementing V2V technology in all new cars and trucks.
V2V communications can provide the vehicle and driver with 360-degree situational awareness to address additional crash situations, like when a driver needs to decide if it's safe to pass on a two-lane road (potential head-on collision) or make a left turn across the path of oncoming traffic. It can also alert a driver when a vehicle approaching at an intersection appears to be on a collision course.
Our latest research estimates that V2V has the potential to help drivers avoid or mitigate 70 to 80 percent of vehicle crashes involving unimpaired drivers, and that could help prevent many thousands of deaths and injuries on our roads every year.
The research we've conducted at DOT and NHTSA demonstrates V2V's viability and value.
As one example, in 2012, the DOT launched a real-world field test based in Ann Arbor, Michigan, that included nearly 3,000 cars, trucks, and buses outfitted with V2V communications technology.
Test vehicles were able to send and receive anonymous safety data messages between one another. Many of these vehicles were also able to translate the data into a warning to the driver in case of an impending crash.
NHTSA used all of the information available to us from more than a decade of research, including the valuable data from the model deployment, when we decided that now was the time to begin to take action that will eventually make these safety technologies available to the hundreds of millions of drivers across the country.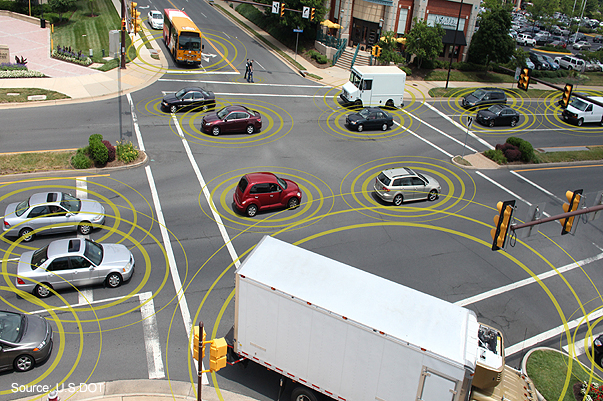 For almost five decades, DOT and NHTSA have worked hard to prevent deaths and injuries on America's roads:
We've urged Americans to drive safely and partnered with state and local law enforcement to discourage dangerous behaviors, such as driving drunk, driving distracted, or driving or riding without a seat belt;
We've helped Americans make informed choices about their vehicles with our 5-Star Safety Ratings that tell consumers which cars perform best in the unfortunate event of a crash;
We've ensured that vehicles with safety defects were recalled so that consumers would be protected; and
We've helped accelerate the adoption of vehicle features, such as air bags and electronic stability control, that are proven to save lives.
All of these efforts have made a tremendous difference and will always be a part of NHTSA's safety mission.
Since 1970, highway fatalities have declined by 36 percent and have fallen by 22 percent just in the last decade. But, with more than 30,000 fatalities on America's roadways each year, we must continue to look to new and innovative ways to save lives.
V2V technology represents one such innovation. The opportunity to move forward with the lifesaving potential of V2V technology makes this a very special moment in automotive safety.
 
David Friedman is Acting Administrator of the National Highway Traffic Safety Administration.