As spring travel surges, please Look Before you Book!
Every year around this time, the Washington, DC, metro area sees an influx of tourists in town to visit the historic sites and view the famous cherry blossoms. At the Federal Motor Carrier Safety Administration, the Spring Break travel boost offers a good opportunity to remind those traveling by bus to choose a carrier with a solid safety record.
The easiest way for passengers to consider a carrier's safety record when planning a trip is to "Look Before You Book" either through our website or through our SaferBus app. You may know already about SaferBus –DOT's first mobile app– launched several years ago for the iPhone.
It's also available for Android devices. But whatever device you're using it on, the app allows you a quick way to review a bus company's safety record before buying a ticket, chartering a bus, or climbing aboard. It's free; it's easy; and it makes you a more informed passenger.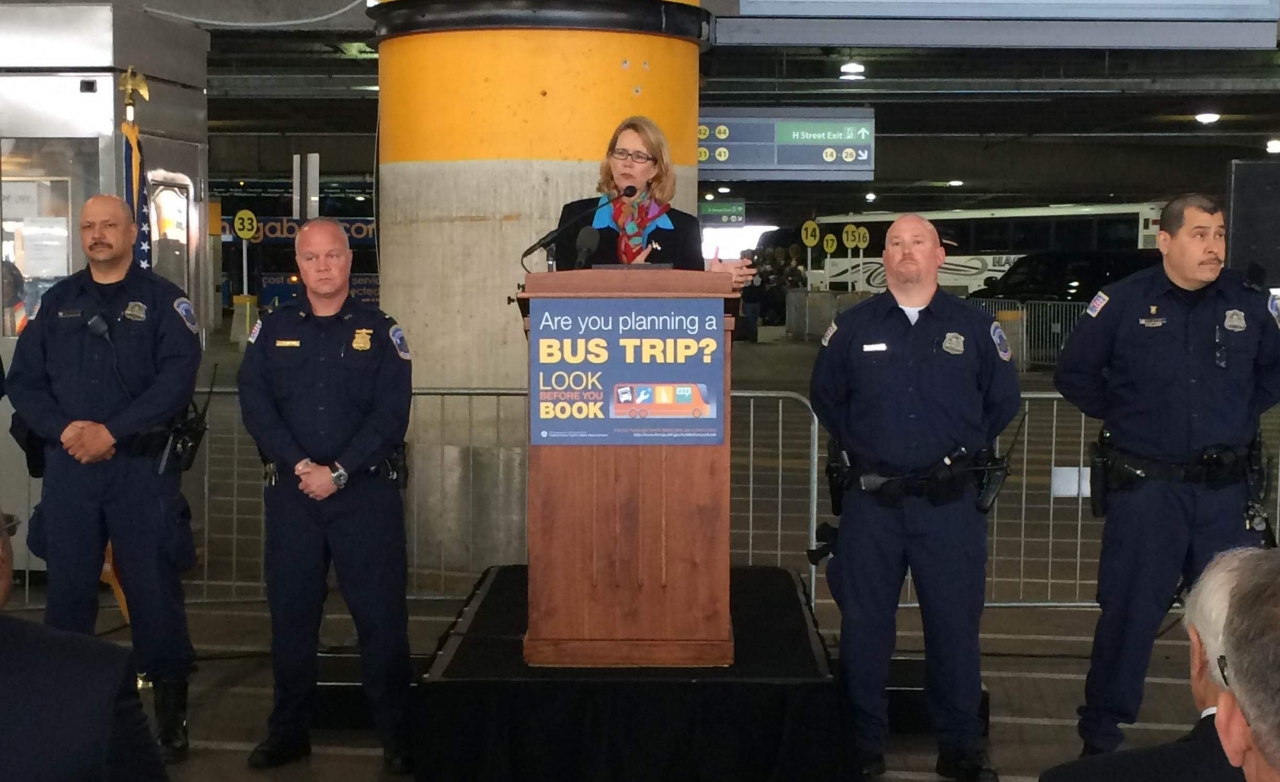 The increase in bus traffic also offers us an opportunity for an inspection and enforcement effort to further protect the safety of bus passengers, and we're doing just that at DC's Union Station. Although many people know Union Station as home to passenger rail, it has also become a regional base for curbside motorcoach operators, with an average of more than 300 buses and 7,000 bus passengers using the station daily. As a result, it's a perfect location for us to showcase bus safety.
Plus, we found a welcoming safety partner in our host, the Union Station Redevelopment Corporation.
During these inspections, our specially-trained investigators will look at a wide scope of safety measures including brakes, lights, and whether or not drivers have worked too many hours and are qualified to drive. We're looking closely to protect the safety of passengers and prevent bus crashes.
This work is critical because every year, motorcoaches carry more than 750 million passengers in the U.S.  Our inspections ensure that companies that make a business of taking passengers from one place to another are meeting the necessary federal safety standards – and putting their passengers' safety first.
When companies don't meet those standards--when they choose to employ drivers or operate vehicles that pose a danger--we take them off the road. By doing so, we're preventing an estimated 17,000 crashes and saving nearly 600 lives each year.
Our investigators' goal is to help keep you safe when you travel by bus. But remember, you can help, too, when you "Look Before You Book."