Seaway lock maintenance pays winter weather no heed
We've had plenty of unusual winter weather this year--from the warm weather in Alaska to the Polar Vortex sweeping the country to yet another strong winter storm today disrupting the Southeast, Mid Atlantic and New England, it's been anything but ordinary.  And in Massena, NY, home of the Saint Lawrence Seaway, it's been downright cold.
But when I visited Massena last Friday to see the winter asset maintenance work on the Saint Lawrence Seaway, I was impressed--despite the chilly temperatures, strong winds, and plentiful snow, I didn't hear one complaint about the weather.
When the Saint Lawrence Seaway navigation season ends in December, and the vessels are no longer lining up to pass through the two American locks, the hard, outdoor maintenance work of our employees begins.
Each Seaway lock holds 21 million gallons of water--equivalent to roughly 30 Olympic-sized swimming pools--which are emptied during the winter maintenance work.  Winter is the only time the locks close during the year, so it's also the only time for major renovations, meaning our workers are tackling already challenging construction projects in incredibly cold weather.  Yet even under these harsh work conditions, last year the Seaway's safety record was zero lost hours due to injury for work spanning three months (January – March) and comprising nearly 130,000 work hours.   
This work is critically important; it's what makes it possible for the Seaway to carry 37 million metric tons of cargo each year, and it's what makes it possible for the Great Lakes & Seaway sytem to support 227,000 jobs and $34 billion in annual revenue for the region.
So, I hope you'll join me in admiring the determination of the crews working round the clock on the Snell and Eisenhower Locks, and in thanking them for their service in good weather and in bad.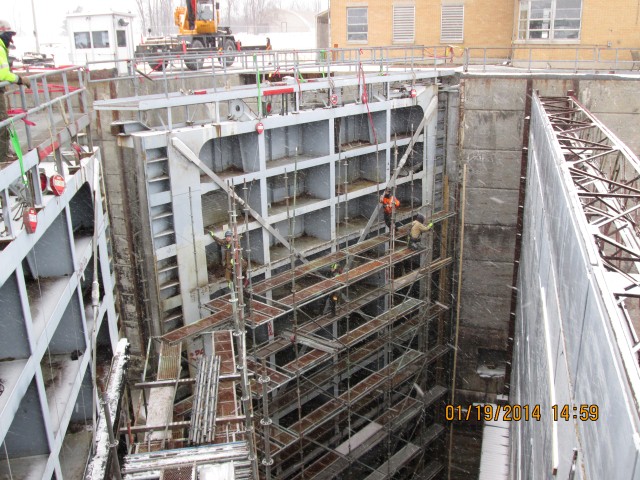 Betty Sutton is Administrator of the Saint Lawrence Seaway Development Corporation.