President Obama signs FAST Act, first long-term Transportation Bill in a decade
My career in public service has taught me that transportation is something we absolutely must do together. When I was the mayor of Charlotte, I made investments in transportation the center of the Queen City's job creation and economic recovery, and the U.S. Department of Transportation played a critical role in helping us move forward.
So when President Obama asked me to serve in this position, I was both humbled and thrilled because I knew that the work of USDOT really matters. But I also knew, although we had been able to break ground on some ambitious projects in Charlotte, the larger reality was that projects were being canceled or delayed all over the country. The traditionally strong funding support authorized by the U.S. Congress was in fact at an all-time low. On my first day at USDOT, it had been more than eight years since Congress had passed a long-term surface transportation bill, and my efforts to push hard for a long term bill began immediately.
President Obama had been supportive of investing in first-class infrastructure and on Capitol Hill there was actually strong bipartisan support. But the message we kept hearing was, "let's do this later." I worked with my team to develop a campaign to turn the corner from "impossible" to "inevitable."
So we scheduled hundreds of Congressional meetings. We went on two bus tours and I met with leaders in 43 states to galvanize support. The President and I even twice submitted our own surface transportation bill proposal, the GROW AMERICA Act, to give Congress a clear sense of the certainty, funding levels, and policies we need in the 21st century.
Today we finally broke through. President Obama signed the Fixing America's Surface Transportation (FAST) Act into law, marking the first long-term transportation bill passed by Congress in 10 years.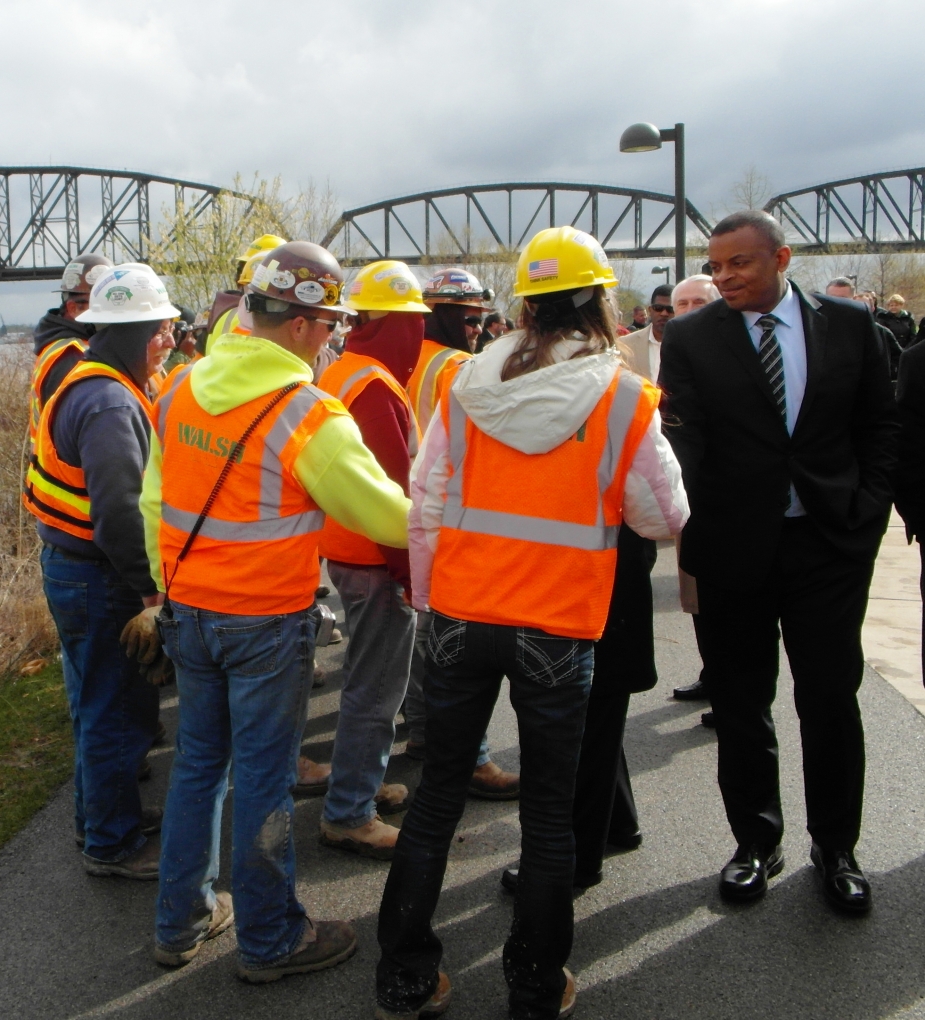 The good news is that the long winter of uncertainty for state DOTs has come to an end. The FAST Act also takes the important step of increasing funding. Under the Act funding will go up by roughly 11 percent over five years. This is a down-payment for building a 21st century transportation system, though it is still far short of the amount needed to reduce congestion on our roads and meet the increasing demands on our transportation systems. The GROW AMERICA Act, in comparison, increases funding by 45 percent.
On the policy front, the FAST Act aligns with many of the policy reforms we proposed in GROW AMERICA. Going forward we will be able to speed up project delivery; for the time ever USDOT will have dedicated funding to make targeted investments to eliminate freight bottlenecks that slow down our economy; and we will be able to do more innovative infrastructure financing, building on the recent launch of our Build American Transportation Investment Center.
On safety, the FAST Act again incorporates many of our proposals. Rental car companies will be prohibited from renting vehicles that are subject to safety recalls. The maximum civil penalty we can assess against auto manufacturers for jeopardizing public safety has more than tripled. Congress also provided critical funding we asked for to enable commuter railroads to install safety technology known as Positive Train Control that could have prevented recent accidents. That said, we also know the bill took a number of steps backward in terms of USDOT's ability to share data with the public and our ability to exercise aggressive oversight over our regulated industries.
I thank the President for supporting the Department's efforts to help Congress get a bill across the goal line. I thank Congress for the demonstration of bipartisanship it took to pass this legislation and for adopting some important provisions from the GROW AMERICA Act. And I want to thank the many stakeholder organizations and everyday citizens who never let up in their calls for action.
After 36 short-term extensions, it has no doubt been a long and bumpy ride to a long-term transportation bill. We did not get everything we asked for, but we've made it. And while the FAST Act is not perfect, it reflects the bipartisan compromise I always knew was possible. We should celebrate this milestone, but members of Congress should also understand that more needs to be done and should strive to pass a bill like the GROW AMERICA Act.
---
Learn more about the FAST Act at www.transportation.gov/fastact.