Helping Pedestrians Stay Safe
Today, we're seeing a significant change in Americans' transportation choices. Americans are voting with their feet—by walking, running, and cycling—for alternative ways to get around. And when you think about it, everyone is a pedestrian at some point during the day because we all step off the curb or walk across a parking lot on our way to work, shop, or play.
But, as Americans are increasingly walking or biking, we've seen an increase in pedestrian and cyclist deaths. Between 2011 and 2012, pedestrian fatalities increased by 6 percent and cyclist fatalities were up nearly 7 percent. In 2012 alone, 4,743 pedestrians were killed in traffic crashes and tens of thousands more were injured. That's one pedestrian's life lost every two hours and one injured every seven minutes.
At DOT and NHTSA, we're working to provide support for enforcement and to spread information that will help protect everyone on the road. As part of our "Everyone is a Pedestrian" initiative, we announced last Friday that we are awarding three states approximately $1.6 million to help implement new initiatives for their Pedestrian Safety Action Plans.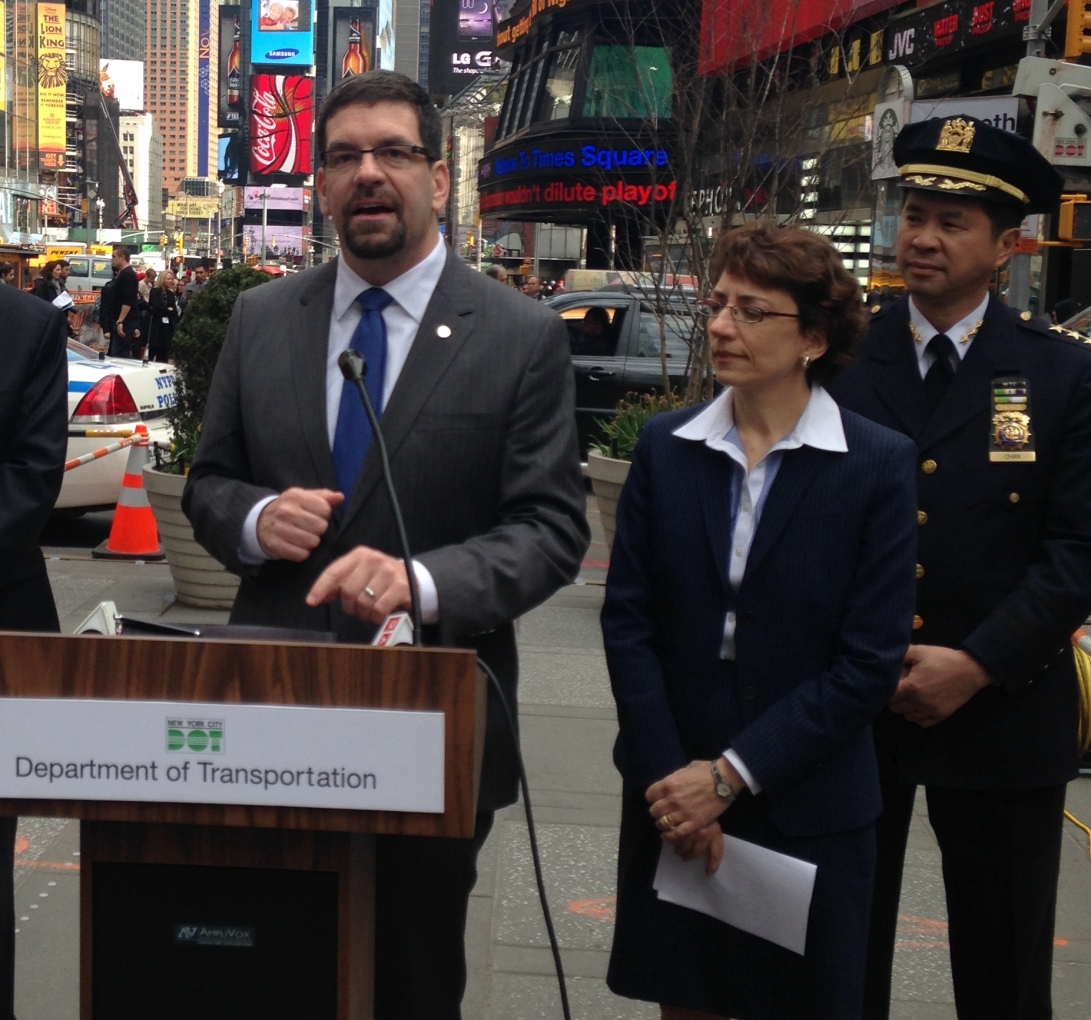 Kentucky will receive $307,000 to help Louisville create a pedestrian education program for school-aged children and create safe walking routes for senior citizens. Funds will be used to conduct law enforcement training and crosswalk enforcement activities. In Louisville, six pedestrians were killed in motor vehicle crashes during 2012--that's 10 percent of the city's total traffic fatalities for the year.
Pennsylvania will receive $525,000 to help Philadelphia address pedestrian safety in downtown areas by educating drivers in 20 high-crash locations and using viral marketing to reach pedestrians in these areas. In Philadelphia, 31 pedestrians were killed in motor vehicle crashes during 2012, which is 29 percent of the city's total traffic fatalities.
The state of New York will receive $805,801 to help New York City address speeding drivers and drivers who don't yield to pedestrians in crosswalks. The city will work on reaching the demographic most likely to be behind the wheel in pedestrian crashes –young men- through social media and enforcement activities in high-crash areas. In New York City, a total of 127 pedestrians were killed in motor vehicle crashes during 2012, an astonishing 47 percent of the city's total traffic fatalities.

No matter where we live or how we get around, all of us need to take greater responsibility for safety and for the safety of our neighbors by driving, walking, and biking more safely. Our Everyone is a Pedestrian website offers tips for parents on how to help keep kids safe, as well as information for communities that are looking for new and innovative ways to improve pedestrian safety.
DOT and NHTSA are dedicated to improving the safety of all transportation alternatives, including walking and biking. These grants give local communities an opportunity to shine a spotlight on their pedestrian safety concerns and take the actions they need to take to make their cities safer, healthier places.