Parents Central: Keeping children and adults safe in the car
We all want our children to be as safe as possible in and around our cars – they are indeed our most precious cargo.
Navigating the many decisions that must be made from car seats to teen driving, however, isn't always easy. Thankfully the National Highway Traffic Safety Administration hosts a website that includes pages of useful information regarding the many choices and considerations that must be made in keeping our families safe.
NHTSA works every day to save lives on our nation's roadways, and the Parents Central portion of the agency's safercar.gov website can answer questions, offer tools for decision-making, and help you plan ahead. We'll take a closer look at all of the website's sections in the coming weeks, but until then here is an overview.
The car seats section will help you find the right car seat based on your child's age and size, install your car seat correctly, register your car seat and find car seat recall information.
The On the Move section helps you make well-informed safety decisions once your child is old enough to venture out of sight unaccompanied, whether it be to school, to a friend's house or just on a bike ride.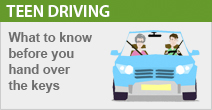 And after they venture out alone on their bikes, they venture out alone in the car. The Teen Driving section includes information about state licensing requirements, tips on setting ground rules and tools for cautioning teens about alcohol and distracted driving.
Car seats and seat belts are very important, but their misuse is not the only danger when it comes to cars. The In and Around the Car section is where you can find information about backovers, heatstroke, power window dangers, trunk entrapment and vehicle rollaways.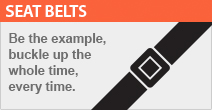 Because seat belts are just as important as car seats, they too get their own section. Important use and fit are very important, and in this section you can read about best uses for tweens, teenagers and expectant mothers and other adults.