Now for General Aviation: NextGen!
I enjoyed my visit this week to Oshkosh, Wisconsin, for the Experimental Aircraft Association's AirVenture air show.  Events like AirVenture help us reconnect with the wonder of flight.  I met with dozens of enthusiasts who share a passion for exploring the skies and a commitment to improving their skills as pilots.  I even helped assemble the "One Week Wonder," a Zenith CH 750 Cruzer that will be built in a week!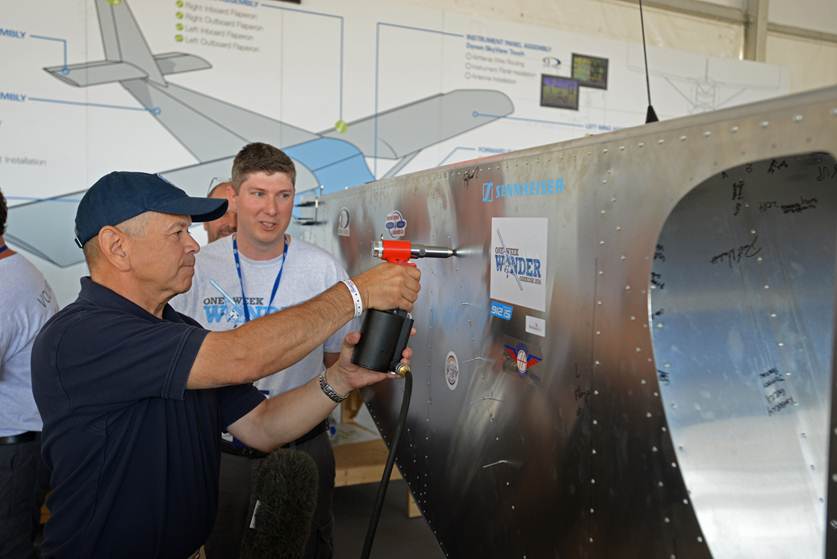 I enjoyed my conversations with pilots, who are never shy about sharing their opinions.  We talked about third class medical certificates and streamlining the certification process.  We discussed the importance of reducing the fatal accident rate and engaging pilots in the Got Weather safety campaign.  And I was proud to I deliver the message that NextGen is now for general aviation.
The significant progress we've made in transforming air traffic control in this country from a ground-based system of radars to a state-of-the-art, satellite-based system – enabling aircraft to fly from Point A to Point B with enhanced safety and efficiency, all while reducing emissions – wouldn't have been possible without General Aviation. In fact, the GA community in Alaska was the first to use Automatic Dependent Surveillance – Broadcast (ADS-B), the satellite-based system that is supplanting radar, more than 10 years ago. We picked the GA community in Alaska as the first to receive ADS-B because their aircraft play critical roles – as ambulances, school buses, ferrying supplies, etc. – in serving remote, mountainous communities that lack radar coverage and are often only accessible by air. The benefits delivered by improved pilot situational awareness, especially in bad weather, were dramatic: the accident rate for ADS-B-equipped aircraft in Southwest Alaska was reduced by nearly half.
We recently completed the nationwide installation of the ADS-B ground infrastructure, which means that today GA pilots can enjoy the subscription-free services and enhanced safety that come with the technology. Pilots flying properly equipped aircraft can see graphical weather information on cockpit displays, where they are in relation to nearby aircraft, and flight information such as temporary flight restrictions. With the infrastructure complete, now is a good time to equip with the ADS-B avionics that will be required to fly in most controlled U.S. airspace by Jan. 1, 2020. Many GA pilots are already equipping to take advantage of the safety and efficiency benefits that come with ADS-B In. Pilots waiting until the last minute, however, may find themselves at the back end of a long waiting list.
I'm pleased to say that ADS-B isn't the only GPS-based, NextGen technology available to GA pilots. For over a decade we've been publishing approach procedures that take advantage of the Wide Area Augmentation System (WAAS) at hundreds of airports, including many that lack ground-based navigational aids such as an Instrument Landing System (ILS). WAAS-enabled procedures enable GA pilots to fly into airports in poor weather conditions with minimums as low as 200 feet – a significant safety and efficiency benefit. We've published 3,404 WAAS approach procedures – more than twice the number of ILS procedures – serving 1,676 airports. We expect to publish another 270 WAAS procedures over the next three years.
We've also rolled out a surveillance system in Colorado that enables controllers to track aircraft not covered by radar in remote, mountainous regions. This system, called Wide-Area Multilateration (WAM), uses existing avionics on aircraft to greatly improve the safety and efficiency of flights that previously disappeared from controller screens once they flew out of radar coverage in mountainous areas. The resulting flight limitations were further compounded by seasonal bad weather, which caused flight delays and cancellations. GA pilots now enjoy the benefits of WAM at Craig, Hayden, Steamboat Springs, Rifle, Durango, Gunnison and Telluride.
More information on how NextGen is enhancing safety and improving access for the general aviation community is available in the pamphlet NextGen Works for General Aviation, available for download at www.faa.gov/nextgen/media/generalAviation.pdf.