Niagara Falls train station promises better access, greater mobility
When is a train station not just a train station? Ask the people who gathered Monday to celebrate the groundbreaking for the third and final phase of the Niagara Falls International Railway Station and Intermodal Transportation Center, and you could get a wide range of answers:
When it represents a wide range of partners coming together and cooperating to get a needed project off the ground. When it increases the transportation options available to local residents as well as international tourists. When it stimulates economic development. And when it also houses U.S. Customs operations for the Department of Homeland Security as well as a museum celebrating the rich history of the Underground Railroad.
And they would all be correct. In addition to the Customs inspection center and the Underground Railroad museum, the new station will offer a more convenient downtown location, upgraded tracks and signals, dedicated passenger rail siding to eliminate conflicts with freight traffic, and improved passenger rail platforms. The LEED Silver passenger rail terminal building will also accommodate multi-modal operations like bus, taxi, and park-and-ride services, making it a true transportation hub for the region.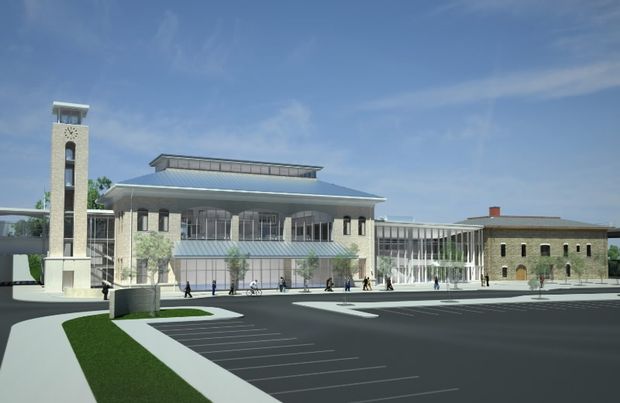 As U.S. Senator Chuck Schumer --one of the participants at Monday's groundbreaking-- said, "That's why together we've fought for federal, state and local funding to turn this dream into a reality."
Everyone involved in the Niagara Falls project should be proud of this achievement--Federal, State, and local agencies; industry representatives; architects; builders; and--of course--the residents who threw their support behind the new station.
Like many other railroad investments around the country, the DOT TIGER grant to the City of Niagara Falls is designed to usher in an entirely new era for safe and reliable passenger rail service.
As Niagara Falls Mayor Paul Dyster said at the event, "Someday soon, visitors  will step off the train, not in an industrial district far from the City center, but on the very lip of the great Niagara Gorge, just a short hop from the downtown center and the Falls itself."
But we still have a lot of work to do.  In too many places, we haven't invested in the passenger rail connections travelers deserve—and that will be necessary to move up to 100 million additional people by 2050. Unless we change the way we fund rail transportation, we won't be able to support more projects like this one in the future.
That's why Secretary Foxx recently sent the multi-year GROW AMERICA transportation bill to Congress. This bill would provide unprecedented support for rail safety programs and for projects like the one in Niagara Falls by investing $19 billion in rail over four years.
And–for the first time ever–GROW AMERICA will provide U.S. rail with a predictable, dedicated funding source, putting rail on par with other surface transportation modes and allow our states, regions, and cities to continue building the high-performance rail system passengers need.
If Congress supports the GROW AMERICA Act, that's exactly what we'll do:  Invest in our rail network, grow our economy, and create good jobs.