NextGen Delivering Promised Efficiency for Houston Area
Yesterday, I was in Texas with Secretary Foxx to celebrate big changes in the way we handle air traffic in and out of the four Houston-area airports.
For the last 30 months, the Federal Aviation Administration (FAA) has collaborated with aviation industry stakeholders to update airspace and air-traffic control procedures so we can improve on-time performance for airlines while also reducing emissions. These improvements are part of the FAA's NextGen program, one of the largest --although not so visible-- public-works projects in our lifetime. NextGen transforms our radar-based air traffic control system to a more efficient satellite-based system.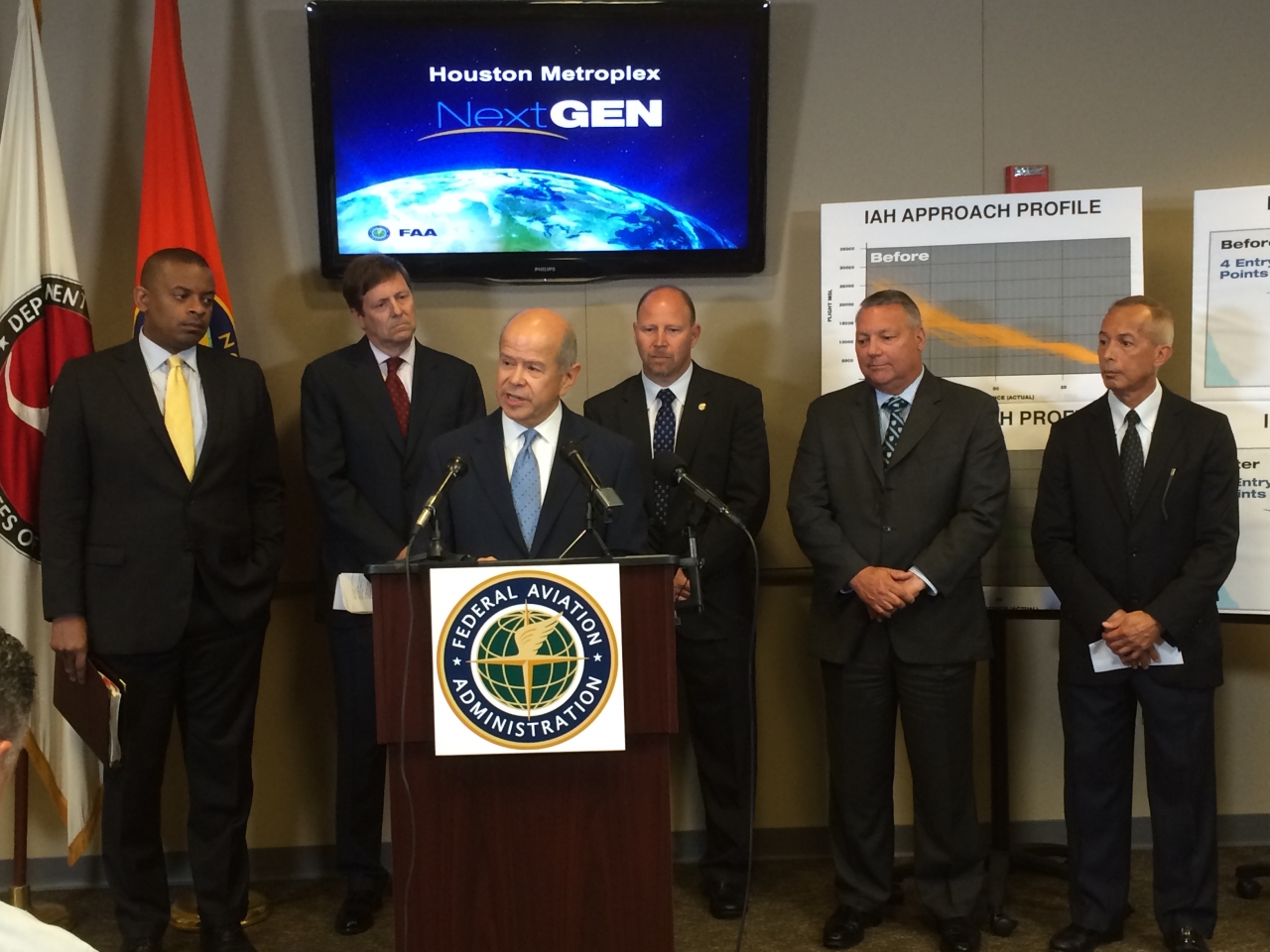 The accuracy of satellite navigation allows us to completely redesign the airspace around what we call "metroplexes," multi-airport metropolitan areas like Houston. These redesigns promise significant savings of time and fuel.
At the Houston Metroplex, the first to receive an airspace upgrade of this scale, the new flight plans will reduce miles flown by as much as 648,000 nautical miles annually. So far, we've projected the changes will save up to three million gallons of fuel and reduce carbon emissions by as much as 31,000 metric tons each year.

Graph showing increased approach efficiency after NextGen procedures.
The technological and procedural lessons we learned in Houston will serve as a model for future metroplex projects around the country. Metroplex initiatives are underway or planned in more than a dozen busy areas including Atlanta; Charlotte; Dallas-Ft. Worth; Washington, DC; and Northern and Southern California.
Through collaboration with our stakeholders—airlines, pilots, air traffic controllers, airports and local communities—the Houston Metroplex airspace modernization plan will deliver great benefits to airlines, the traveling public, and the greater Houston area.
And we can't wait to see those benefits reaching our other planned Metroplexes soon.
---
If you want to learn more about the Houston Metroplex, you can:
Watch a video featuring air traffic controllers, pilots and airport officials describing the new Houston Metroplex;
Watch a video featuring digital animation of the new Houston Metroplex flight procedures; and
Read our News Release from the yesterday's event in Houston with Secretary Foxx.