New website reveals "The Shocking Truth" about the Highway Trust Fund
It should be clear to Fast Lane readers by now that we at DOT are not the only ones trying to alert Americans to the fact that our Highway Trust Fund is on a collision course with insolvency.
Earlier this month, the American Society of Civil Engineers launched the www.fixthetrustfund.org website saying, "Federal funding for roads, bridges, and transit is set to go over a cliff by the end of August. If it does, projects will stop, jobs will be lost, prices will go up, and public safety will be jeopardized."
And this week, the Fast Lane is being taken over by mayors and governors from around the country who are deeply concerned about the consequences from a funding shortfall. As Kentucky Governor Steve Beshear wrote this morning, "Uncertainty about what will happen with the Trust Fund is already having an effect on construction programs in Kentucky and elsewhere."
That means that nationwide, as Secretary Foxx wrote to Directors of State DOTs last week, "hundreds of projects and thousands of jobs are at risk."
It's not just projects and jobs; as a new website from the American Road and Transportation Builders Association (ARTBA) makes clear, "America's transportation network is the unsung workhorse of our economy."
On ARTBA's Transportation Makes America Work website, you'll learn that our highways and railroads carry 14.6 trillion tons of freight each year, freight worth $19 trillion. It's an eye-opening way of showing that transportation means business.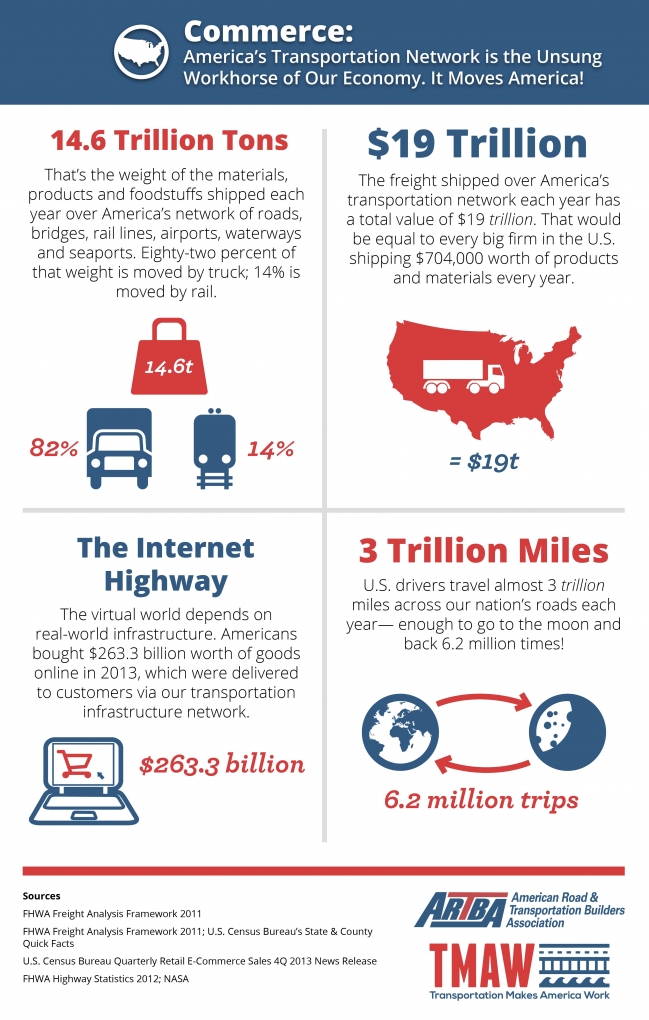 At www.tmaw.org, you can find this and other shocking truths --like the fact that "Good roads cost money, but bad roads cost more"-- illustrated with easy-to-understand infographics that show how transportation affects every one of us every day
"People's eyes glaze over when you talk about trillion dollar capital needs, 'X percent' of roads, bridges and transit systems that need repair, and multi-billion dollar government programs," ARTBA President & CEO Pete Ruane said.  "We're taking that data and creating images that people can relate to.  We're presenting facts in ways that families can talk about transportation issues around the dinner table."
We can't thank the many leaders and organizations supporting us on this important issue enough. But we also want Americans to know that there are plenty of solutions available for our elected representatives in Congress to head off this crisis.
If they act in time.