New rail cars offer Metrorail passengers improved safety
On Monday, four new, modern train cars rolled out of a railyard in Greenbelt, MD, and made the short trip to the station platform. They weren't there to pick up passengers; instead, they were providing a first look at an entirely new generation of rail cars, designed --in part-- with the input of Washington Metropolitan Area Transit Agency (WMATA) customers and train operators.
They are the first of more than 500 new "7000 Series" cars --all made in the United States-- that will provide a safer, more reliable ride for millions of passengers and expand the Metrorail system's capacity overall.
Four-and-a-half years ago, a train collision near WMATA's Fort Totten station killed nine people and injured scores more. After investigating the crash, the National Transportation Safety Board recommended that the aging generation of rail cars involved be replaced with newer models that are safer and more crashworthy.
In fact, the oldest series of rail cars has been in service since the 1970s. Since they came on line, we've had 40 years of experience and technical advancement, and today's rail cars are significantly improved--in both safety and reliability--thanks to the lessons learned during the past four decades. That's why FTA has contributed more than $100 million to help WMATA replace its oldest cars and add more of the new models.
In addition to greater safety, these new cars will help the system keep up with increased growth and expanding demand.
Since that first series of rail cars was delivered, every new generation of cars added to the system has had to maintain compatibility with the older ones, constraining the range of cars --and their accompanying new technologies-- that WMATA could acquire. By deciding to run six and eight-car trains composed entirely of the 7000 Series cars, Metrorail has freed itself from that constraint. These new cars are a technological break with the past and create a new platform for future growth. That's critical for a region that's expected to grow 24 percent to nearly 6.4 million people by 2040.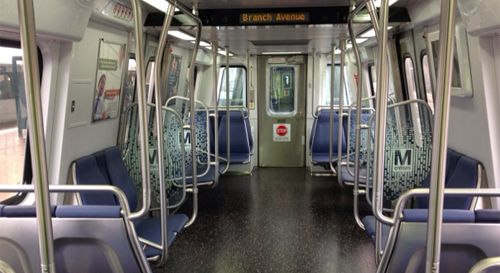 The Fort Totten crash not only instigated safety improvements to Metrorail; it also helped make the case for a federal role in transit safety oversight. With the new transit safety authority proposed by President Obama and championed by many of the congressional leaders who joined FTA Administrator Peter Rogoff at Monday's "7000 Series" debut, DOT's Federal Transit Administration is helping transit agencies stay safe and plan for the upkeep and replacement of aging assets.
Metrorail's new train cars serve as a reminder that investing in America's existing transit infrastructure is a necessary part of both safety and continued transit growth.