New connections, opportunities for L.A. commuters
I was thrilled to be back in Los Angeles yesterday on behalf of Secretary Foxx to sign a $670 million grant award with the Los Angeles County Metropolitan Transportation Authority (LACMTA) for a truly game-changing project called the Regional Connector.
And it was great to be joined on this red-letter day by Senator Dianne Feinstein, Congressman Xavier Becerra, Congresswoman Lucille Roybal-Allard, and Mayor Eric Garcetti— all great champions for public transportation.
This is the latest in a growing list of public transportation projects transforming this region for the better by improving access to jobs, education, health care, and other ladders of opportunity that help hard-working residents achieve their dreams.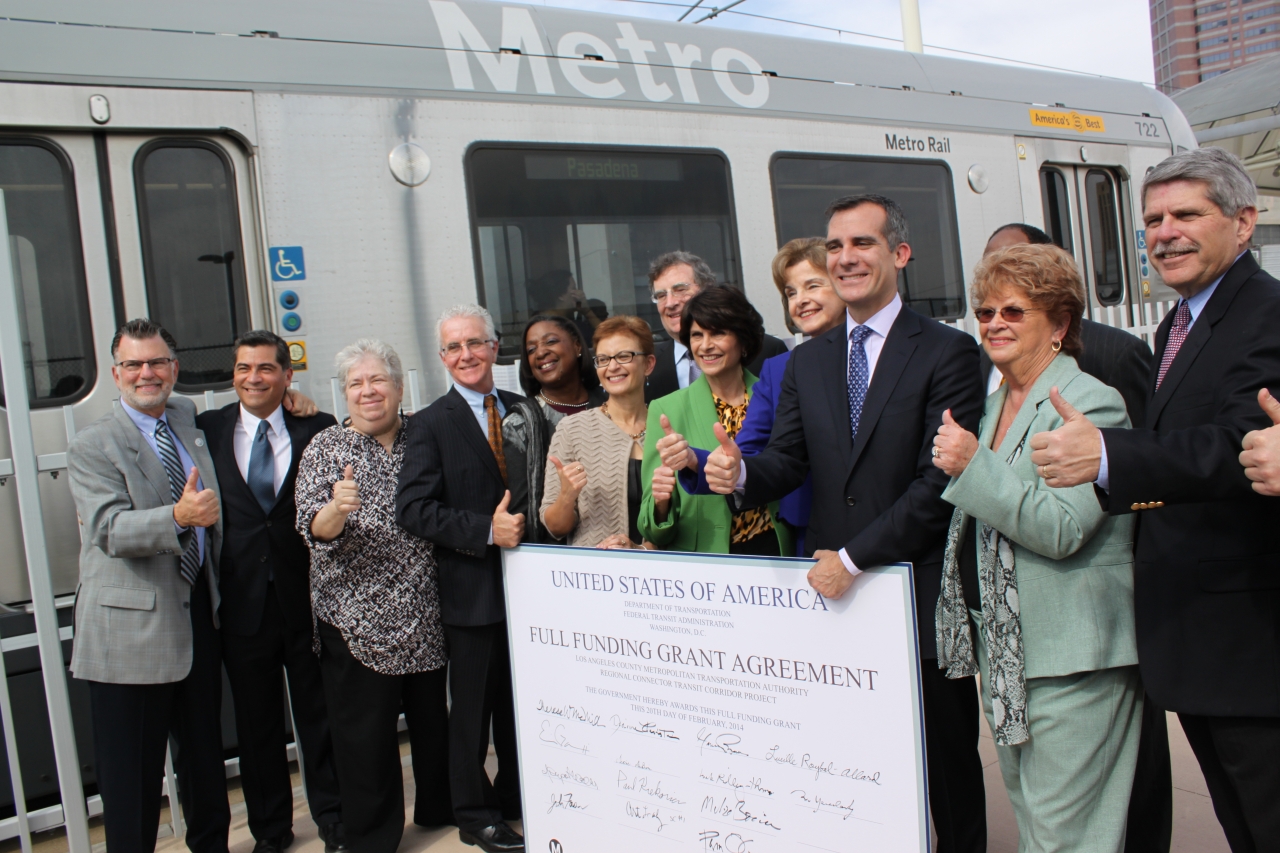 The Regional Connector will improve the quality of LA's light rail service by offering a one-seat ride that cuts travel times from Long Beach to Azusa and from East Los Angeles and the San Gabriel Valley to Santa Monica. That means riders will no longer need to switch back and forth between the subway and light rail to reach their destinations.
Having ridden buses all around the city while growing up, I know firsthand that LA's traffic gridlock has long been a roadblock for many residents trying to travel across the city. This project—which ties together different parts of LA's Metro system—will help remove that obstacle.
It's especially great news for the thousands of families and seniors living along this corridor who depend on public transportation every day to get where they need to go.
I'm also pleased to note that, yesterday, Secretary Foxx approved an important additional source of funding for the Regional Connector. The LACMTA will receive a loan of up to $160 million through DOT's innovative TIFIA (Transportation Infrastructure Finance and Innovation Act) financing program.
This is one more project that makes FTA proud to be a partner in the L.A. region's bold vision for true 21st Century transit.