National Transportation Week, Infrastructure Week begin
This morning, Secretary Foxx blogged about the opening of Denver's revitalized Union Station, a model for the nation of multimodal mobility and of innovative financing. It's hard to think of a better project to kick-off a week that features two key celebrations: National Transportation Week and Infrastructure Week.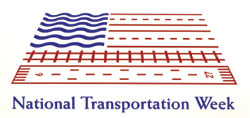 On May 16, 1957, Congress approved the third Friday of May each year as National Defense Transportation Day. And in 1962, Congress updated the request to include the whole week as National Transportation Week to provide an opportunity to celebrate the community of transportation professionals who keep our country moving.
Infrastructure Week 2014 is led by a diverse partnership of organizations including the U.S. Council on Competitiveness, the U.S. Chamber of Commerce, the AFL-CIO, the Brookings Institution's Metropolitan Policy Program, Building America's Future, 1776, the Organization for International Investment, the Value of Water Coalition, and the National Association of Manufacturers.
These groups may not agree on everything, but when it comes to investing in transportation, they have put their differences aside and come together to explore emerging solutions, innovative approaches, and best practices being developed nationwide to modernize America's aging infrastructure.
And that's exactly what we need Congress to do. Secretary Foxx has sent his legislative proposal--GROW AMERICA--to the Hill, and there are other proposals in the works. These proposals may differ, but the people who need roads and rails and transit to get to work, and the businesses that rely on efficient movement of freight, need solutions.
Because, as President Obama said in his National Transportation Week Proclamation, "Accessible roads, safe bridges, and good jobs should transcend politics."
A sound transportation system is about opportunity; it allows businesses to safely move their goods to market, and it helps Americans get where they need to go. Maintaining that system creates jobs upgrading ports, unclogging commutes, and repairing roads and rails. And, as the President said, "Infrastructure also plays a vital role in America's security...In order to safeguard our Nation, we must ensure our infrastructure is resilient enough to withstand disaster and keep supply lines open. "
So this week, we're keeping our eye on a number of events celebrating America's transportation infrastructure, beginning with National Train Day, which Amtrak celebrated at stations across the country last Saturday--you'll see a Fast Lane blog post on that tomorrow!--continuing through today's Infrastructure Week all-day kickoff at Washington, DC's Newseum and a wide range of other events. You can find a calendar for Infrastructure Week 2014 here, and if you're active on social media, look for Tweets and Facebook posts on transportation infrastructure from an array of sources. Try searching #TransportationWeek and #RebuildRenew.
And stay tuned right here all week to read more blog posts about the role transportation infrastructure plays in our lives and our economy--and what your U.S. Department of Transportation is doing to keep America moving forward!