More jobs, better rail just two benefits of GROW AMERICA
Earlier today, I had the pleasure of joining Illinois Governor Patrick Quinn and several other dignitaries at a ribbon cutting ceremony for Shop #3 at the Nippon Sharyo plant in Rochelle, IL. As the name indicates, this is the third expansion at this plant since 2012. Very soon, workers will start building 130 new, next-generation rail cars for California and the Midwest that are funded through our High-Speed and Intercity Passenger Rail program.
Not that long ago, Shop #3, as well as Shops #1 and #2, were empty fields.  Now, because of the Obama Administration's investments in passenger rail, our Buy America program, and the hard work of so many, I was able to spend the day touring a state-of-the-art U.S. railcar manufacturing plant. What's more, we're rejuvenating a manufacturing industry that had gone fallow. New skilled workers are arriving, equipment and material being delivered, high-tech machines whirring and in the near future…shiny new rail cars will be rolling out the door. It's exciting for Rochelle, important for Illinois and historic for the Nation.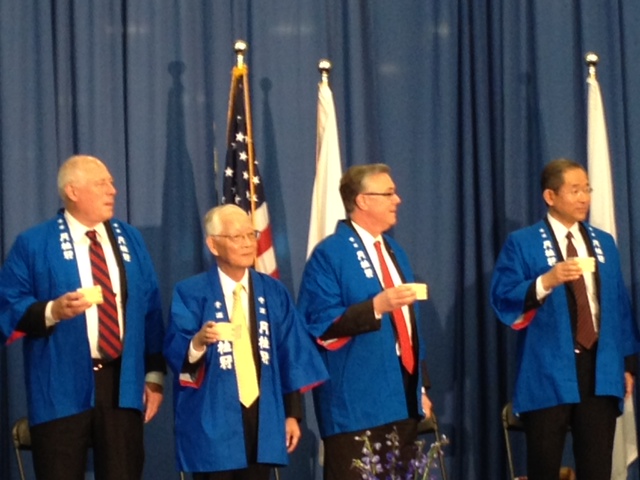 Two years ago when their plant opened with a single shop, Nippon Sharyo had fewer than 100 new hires. The second shop added more workers. And, not much more than a year ago, I was in Rochelle for the groundbreaking of Shop #3: a facility that has been built impressively fast, that led to 90 additional hires, and has all the latest technologies for laser metal cutting, fabrication, and welding. Now, with today's ribbon-cutting, the Rochelle plant has created more than 400 new jobs right here in the U.S.
The plant has also helped create even more jobs throughout its American supply chain because our Buy America program requires that railcars being built here are 100 percent American-made. This shop allows Nippon Sharyo to fully meet these requirements and ramp up production through 2018.  
For example, the Nippon Sharyo rail car order led to Columbus Casting's largest order in its 130-year history, and 50 new jobs. And that's just one of more than 50 American suppliers Nippon Sharyo will work with to build its railcars.
It's clear that we should be doing even more of this: investing in new rail equipment, and in new high-performing rail corridors.
We recently sent to Congress a bill so we can do exactly that. It is called GROW AMERICA, and it's a four-year transportation bill that would invest $19 billion in American rail. But, our bill does even more than that. At a time when travel habits are changing, when Amtrak's ridership is growing faster than any other major travel mode, this bill –for the first time ever– will provide high-performing rail projects like the one we funded in Rochelle with predictable, dedicated funding.
What Nippon Sharyo shows us is clear: Investing in rail is an investment in companies and workers all across this country. A long-term commitment to our rail system, like the investments proposed in GROW AMERICA, will keep America moving forward.
And if Congress supports our bill, we'll continue making investments like this one and create more opportunities across the country.