MARAD Shipbuilding Loan Guarantee Means Good Jobs, New Ships Built in the U.S.
Having lived so much of my life at sea, I have a special appreciation for seeing a ship rumble down the boards and splash as it first hits the water, launched very much the same way as it has been done throughout history.  (I'll just need to remember to stand a little further back from the splash next time.) So watching the launch of the Bravante IX, built in a U.S. shipyard, I was especially pleased to know that investments made by the Maritime Administration (MARAD) just three years ago had brought this ship to this moment.

Bravante IX launch; Scott Pittman Photography
The investment in and upgrading of our infrastructure can be an economic game changer, increasing competiveness and fostering long term job creation.  Over the last five years, the work of two MARAD grant and financing programs have come together at Eastern Shipbuilding of Panama City, FL, to provide a perfect example of this principle at work.  So much so, I went there to see it myself.
The Bravante IX is the fifth and final platform supply vessel ordered from Eastern Shipbuilding by Boldini S.A, a Brazilian company.  These U.S.-manufactured vessels will provide service in deepwater oil fields off the coast of South America and were made possible in part by a $241 million Department of Transportation Title XI loan guarantee. What's more, two MARAD Small Shipyard grants, totaling $3.4 million awarded to Eastern Shipbuilding, allowed for upgrades to their facilities, making the company a more attractive choice to Boldini for vessel construction.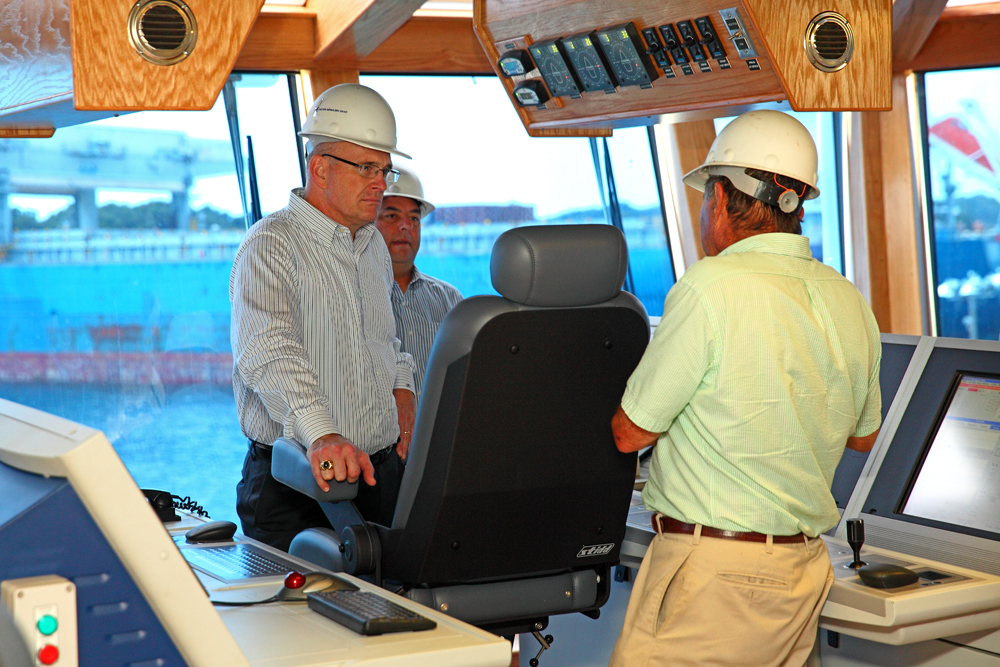 These programs are showing that we certainly got a bang for our buck.
MARAD's Small Shipyard Grant program, which fosters greater efficiency and competitiveness, enabled Eastern to purchase modern equipment, allowing them to construct vessels more quickly, making their shipyard not only more efficient, but also more competitive globally with lower costs and much higher productivity. The shipyard credits their new, Federally-funded equipment, and the construction of the Boldini vessels with creating 350 long term American jobs.  Our Title XI Loan Guarantee Program, which provides full faith and credit for loans to build vessels constructed in U.S. shipyards, added the final piece for Eastern's growth. Thanks in part to these programs, Eastern Shipbuilding --now employing about 1,600 people-- has increased orders from Boldini and other companies and currently completes and launches a new vessel about every six weeks.
The completion of these vessels and growth in Eastern Shipbuilding's productivity show that the Obama Administration's investment in our manufacturing infrastructure pays huge dividends. Since 2009, this Administration has invested more than $150 million to boost small U.S. shipyard efficiency and productivity and grow the number of jobs for shipbuilding and repair workers, and the thousands of businesses that supply the industry. The Small Shipyard Grant Program is proof that even modest investments in the shipbuilding and repairing industry produce significant returns and benefit both the local and regional economy . 
MARAD programs that support U.S. shipyards are helping to create quality, good paying jobs and support economic growth far beyond our nation's ports, rivers and waterways. In supporting them, this Administration continues its commitment to helping businesses grow, all while creating jobs here in America.