On Highway Trust Fund's 58th anniversary, concern about getting to 59
From DOT: Yesterday, we marked the 58th anniversary of the Highway Trust Fund, an instrumental source of road funding for all 50 states, U.S. territories, and the District of Columbia. Authorizing legislation for the fund, the Federal-Aid Highway Act, was signed into law and went into immediate effect on June 29, 1956. And for 58 years, the fund has supported repairs, maintenance, and new construction of roads, bridges, and tunnels across America.
Today, we're concerned about the 59th year. Unless Congress acts soon, the Highway Trust Fund could begin bouncing checks as early as August. That means states won't be reimbursed as planned for road projects. And that means trouble for travelers, businesses, and consumers from coast to coast.
That's why, today, we're continuing our series of guest blog posts from frontline elected officials who have to manage the consequences of the looming shortfall. We think Dayton's Mayor Nan Whaley makes it very clear how everyday American life counts on good transportation; we hope you'll agree.
---
From Mayor Whaley:
Dayton, Ohio, is a city located at the crossroads of America, where Interstate 75 intersects with Interstate 70.  There are over 1,800 lane miles of roadways and approximately 200 bridges within the city limits, and 300+ miles of bike trails within the Dayton Metropolitan region.  As with most major Midwest urban cities, infrastructure is aging and deteriorating, and funding to address these roads and bridges is very limited.  
The City of Dayton has benefited greatly from federal transportation funding to replace old and deteriorated infrastructure. 
Over the last ten years, we have --with the assistance of the Ohio Department of Transportation, Ohio Public Works Commission, and Montgomery County Engineer's Office-- replaced 14 major bridges throughout the city.  These bridges provide critical links in the overall transportation network, connecting neighborhoods, institutions, and job centers.  All of these bridges were structurally deficient and between 75 and 100 years old, well past their useful life.
Without Federal assistance, these bridges would have continued to deteriorate and ultimately led to load reductions and potential closures.
Many of the City's major roadway and traffic signal upgrade projects have received Federal Surface Transportation Program (STP) and Congestion Mitigation Air Quality (CMAQ) funds through the Miami Valley Regional Planning Commission allocation.  These funding sources are critical to maintain aging infrastructure throughout the city.  There are several major transportation projects that have either been completed or are in the pipeline that serve many Dayton-area institutions that are experiencing high job growth.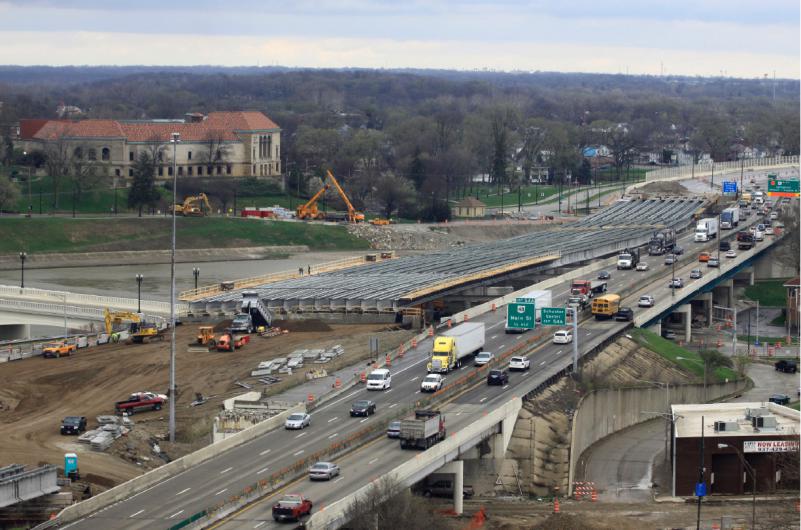 Beginning in 2000, the Ohio Department of Transportation implemented a major reconstruction of Interstate 75 through Downtown Dayton.  This section of Interstate 75 has always been one of the major bottlenecks along the entire I-75 corridor from Ohio to Florida. This project, in its final phase, eliminates the bottleneck and improves safety by increasing capacity and eliminating left entrance and exit ramps, as well as a sharp curve at the intersection with State Route 4. Removing the bottleneck means more than just smooth passage for travelers and commuters in Ohio; it also means better freight transportation for all of the goods moving up and down I-75.
This $350 million investment would never have been completed without funding assistance from the Federal Highway Administration.           
In order for the City of Dayton, as well as the entire country, to continue to address infrastructure needs, it is imperative that Federal funding remain at or be increased over current levels.  Funding of the Highway Trust Fund must be a high priority and new sources of revenue must be identified to insure it remains solvent into the future.