Global Youth Traffic Safety Month: 196 countries, billions of people, one goal
Last month, as part of the Decade of Action for Road Safety (2011-2020), the United Nations General Assembly adopted a resolution encouraging the international community to take road safety into consideration and recognizing the value of an integrated approach to sustainable transportation. Now, when Americans think of sustainability, we often focus on fuel economy and emissions, but safety is a key part of the sustainability equation, particularly when, around the world, 1.24 million people are killed in road traffic incidents every year and more than 50 million are injured.
Young adults aged between 15 and 44 years account for 59% of those deaths globally. Closer to home, motor vehicle crashes are the leading cause of death for young people (ages 5-24) in the U.S. That's why the National Highway Traffic Safety Administration (NHTSA) is proud to join with the National Organizations for Youth Safety (NOYS) in sponsoring Global Youth Traffic Safety Month.
This campaign honors the role young advocates play in promoting traffic safety and empowers youth to develop and lead traffic safety education projects that:
Protect teens as drivers, passengers, bicyclists and pedestrians;
Support law enforcement efforts; and
Affect legislation to protect teen drivers and their passengers and increase seat belt use by teens.
On May 1, Acting NHTSA Administrator David Friedman joined NOYS, youth leaders, and other partners to kick-off the annual celebration, telling the young attendees, "You are going to save the lives of friends and neighbors and countless others that you may never meet because you're actively engaged in your communities to make them safer."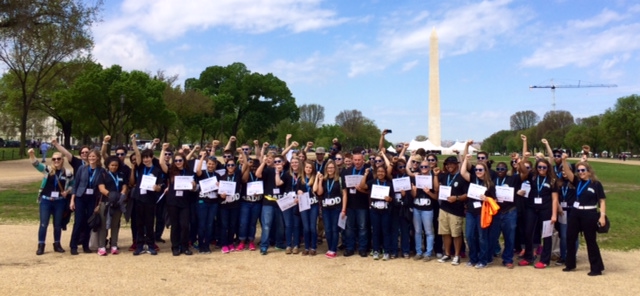 He also shared some important statistics including the fact that, in 2012 alone, more than 3,400 people between 15 and 20 years of age died in vehicle crashes. Of those deaths:
55% were not wearing seat belts,
48% of drivers were speeding,
28% of drivers had been drinking, and
9% of drivers were distracted.
Noting the preventability of these deaths, Acting Administrator Friedman encouraged everyone to take personal responsibility, "a key ingredient to ensuring that we, and others on the roads, are safe."
He also announced the winners of the Project Yellow Light / Hunter Garner Scholarship, a contest that challenges young people to develop videos educating their peers about the dangers of distracted driving. The 2014 grand prize winners are high school student Dylan Malburg of Grand Rapids, MI, and college students Paul Price and Josh Falkum, of the Savannah College of Art and Design. You can see their winning public service announcements below.
There are 9.4 million young adults between the ages of 16 and 24 driving on the highways. They make up only 4.7 percent of the total number of licensed drivers, but are involved in 10.1 percent of fatal accidents and in 13.5 percent of all accidents. NOYS and its young safety advocates are working hard during Global Youth Traffic Safety Month and throughout the year to do something about that, and we are proud to call them our safety partners.