Freight Shipments Rebounded in 2016 from 2015
On Wednesday, the final 2016 Transportation Services Index (TSI) from the Bureau of Transportation Statistics  (BTS) showed activity in the for-hire freight sector at a record high in December. The December peak – equal to the all-time high in July – capped a rebound in 2016 freight activity from a 2015 decline that left the measure of freight shipments slightly above the December 2014 level.
The index has climbed 31.7 percent since the low point of the recession in April 2009, but it rose only 0.8 percent in the two-year period since the end of 2014. That period couples a 2.0 percent loss in 2015 with a 2.9 percent gain in 2016. During 2016, the index peaked in both July and December.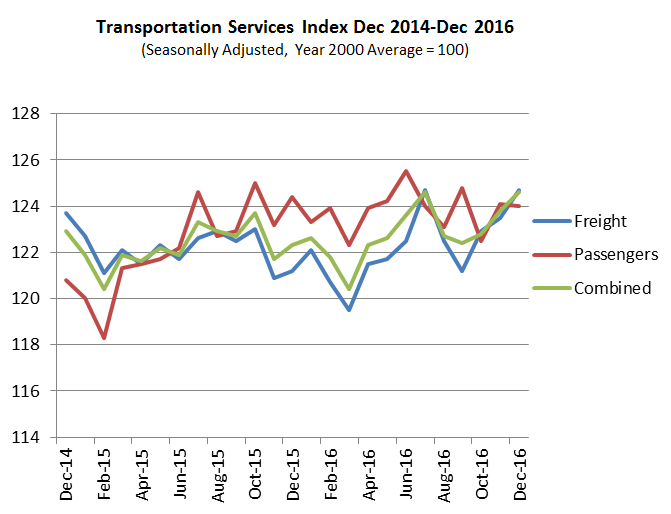 BTS research shows that changes in the TSI occur before changes in the economy, making the TSI useful for predicting economic trends.
In 2016 the fastest growing freight mode was rail intermodal which grew by 6.9 percent, but there were increases in all other freight modes – for-hire trucking, other railroad freight services, inland waterways, pipeline and air freight.
The 2016 increases were a rebound from 2015 when all modes decreased except for truck and pipeline, with rail carloads decreasing the most – by more than 15 percent.  For the two years combined, rail carloads and water declined while all other modes rose. Pipeline was the fastest growing mode, increasing by 7.9 percent.
During 2016, the Freight TSI rose in eight out of 12 months. The month with the fastest growth was July 2016 when Freight TSI grew by 1.8 percent. This growth contrasted with 2015, when Freight TSI declined by 2.0 percent, decreasing in six out of 12 months. 
During the past 13 years, the TSI has shown the monthly changes in transportation activity in the for-hire freight and passenger sectors. Each index is an economically weighted, seasonally adjusted, and includes a combination of different modes of for-hire transportation. 
Unlike the freight index, the passenger index rose 3.0 percent in 2015 and then declined by 0.3 percent in 2016, resulting in two-year rise of 2.6 percent. The passenger index rose in six months and fell in six months of 2016. The passenger index consists of local transit, intercity passenger rail, and passenger air transportation.
A combined index, designed to look at the entire for-hire transportation sector, showed a pattern closer to the freight index, growing by 1.9 percent in 2016, and increasing in eight months.  It declined by 0.5 percent in 2015, decreasing in seven months.   
For a webinar on the TSI, see Past Webinars. For a video explanation of the TSI, see Overview of the Transportation Services Index. A BTS report explaining the TSI, Transportation Services Index and the Economy, is available for download. See Seasonally-Adjusted Transportation Data for numbers for individual modes. TSI includes data from 2000 to the present.