FRA steps up grade crossing safety efforts
Two recent commuter rail accidents --one in New York and one in California-- are a tragic reminder that drivers need to respect railroad grade crossings. And, as part of its ongoing efforts to improve grade crossing safety, the Federal Railroad Administration has launched a campaign to make sure drivers are getting that message.
FRA's new campaign will improve safety by strengthening enforcement and increasing safety awareness at America's grade crossings.
The first phase calls upon local law enforcement agencies to increase their visibility at grade crossings and issue citations to drivers that violate rules of the road at crossings. Subsequent phases will deploy smarter uses of technology, increase public awareness of grade crossing safety, support improved signage, strengthen partnerships with states and local safety agencies, and call for new rail crossing safety funding.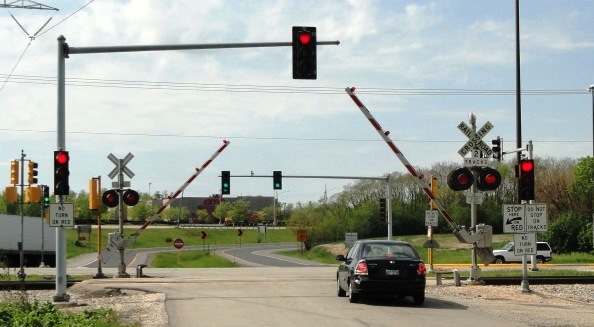 Although the number of deaths and injuries from grade crossing incidents has dropped significantly over the last two decades, there are more than 250,000 grade crossings in America, and more than half of those are public at-grade crossings, the kind that drivers typically encounter. Only half of those have automatic-warning systems, and only a third have the flashing lights and gates that we often associate with rail crossings.
It might surprise Fast Lane readers to learn that more than 60 percent of train-vehicle collisions actually occur at crossings with some sort of automatic warning system. That indicates that drivers are not exercising enough caution when warnings are activated.
And that's why more visibility from law enforcement and stepped-up public awareness efforts are a good place to start the FRA's new campaign.
"This remains a serious problem," said Sarah Feinberg, Acting Administrator at the Federal Railroad Administration. "We can and should be doing everything we possibly can to keep drivers, pedestrians, and train crews and passengers safe at grade crossings." 
Secretary Foxx agrees. "Grade crossing and trespassing accidents are serious challenges to maintaining public safety," he said. "Every three hours of every day, someone is hit by a train in the United States, and we must do all we can to heighten public awareness, strengthen enforcement efforts and pioneer new technologies to better secure public safety."
---
Click here to read FRA's Highway-Rail Grade Crossing Resource Guide.