FMCSA kicks off National Moving Month in Texas
Yesterday, I joined the Texas Department of Motor Vehicles, the Southwest Movers Association, the American Moving and Storage Association and the Better Business Bureau to kick off National Moving Month in Austin.
In 2014, more than 35 million Americans will move, and the month of May marks the start of the prime moving season. This is the time when many families and individuals think about what moving company to hire, and our job is to ensure that it will be a productive and safe one. With our focus on safety and consumer protection, we are working to enforce rules and educate consumers on how to protect themselves against moving fraud. Last year, FMCSA received more than 3,100 consumer complaints – many of these were against "rogue" movers who take advantage of consumers.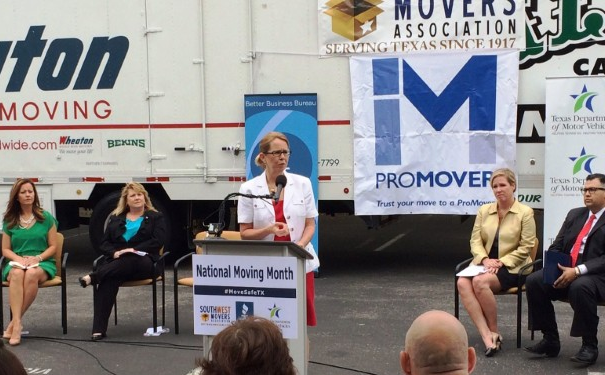 In Texas, moving company complaints have dropped by 39 percent since 2011 because of the hard work of many at the Texas DMV, their partnership with FMCSA, the moving industry and the BBB, who help teach consumers how to avoid scams.
To protect your move, be aware of these top red flags of moving fraud:
When a mover refuses to make a house call for an estimate;
When a mover asks for cash or a large deposit;
When a mover offers a much lower estimate than other companies;
When a mover picks up your possessions and then escalates the price or tries to make you sign a blank or incomplete document before they will deliver the shipment.
We want the public to know that moving fraud can and does happen. The "Protect Your Move" website is the place to go to check on the safety and complaint history of a company. Consumers can find moving tips and checklists, and they can check a company's complaint history to shop for a reliable mover. 
Stopping moving fraud takes both effective enforcement and proactive education. Before hiring a mover:
Do your homework;
Make sure your moving company is registered with FMCSA;
Check the company's complaint history;
It pays to get estimates – at least three of them; and
Don't make your decision solely based on price.
If consumers have complaints, call our Consumer Safety Hotline at 1-888-DOT-SAFT and report it immediately. Don't let moving fraud be a problem for you. Protect Your Move against unscrupulous moving companies.