When I go to Capitol Hill, too many Congressmen tell me they aren't hearing from their constituents on infrastructure issues. I then ask, "But are they calling about losing their jobs? Or not being able to make ends meet?"
The Congressmen always reply, "Of course."
As I often tell our elected leaders, these issues are not mutually exclusive; they are one and the same! Federal funding for roads, bridges, and transit is set to go over a cliff by the end of August. If it does, projects will stop, jobs will be lost, prices will go up, and public safety will be jeopardized.
The pending insolvency of the Highway Trust Fund is a complex funding issue that only Congress can solve. Yet, the consequences of the Highway Trust Fund issue aren't complex whatsoever—they will have a massive impact on American families and businesses.
The question is simple: how can we convince the public to tell Congress that going over the Highway Trust Fund funding cliff is simply not an option?
This week, the American Society of Civil Engineers (ASCE) launched FixTheTrustFund.org—a new grassroots campaign for families and business, giving them the tools they need to motivate Congress and find a sustainable, long-term funding solution to America's surface transportation funding crisis. 

One of the many informative infographics available on www.fixthetrustfund.org.
The new website offers a simple way for users to learn about the issue and how it will affect them. The new site includes information and videos that show the real costs of Congressional inaction. The site urges action through a Change.org petition as well as the ability to send a message directly to your member of Congress. Users will be able to stay up-to-date on the issues through a dedicated blog feed as well as following and sharing #FixTheTrustFund on social media.
The truth is that American families and businesses are already paying for our inadequate infrastructure.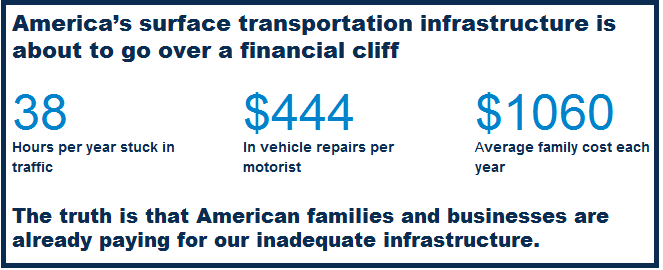 The more time we sit in traffic, the more we spend on gas. The longer it takes a package to get across the country, the higher the price. ASCE estimates that deficient, unreliable transportation infrastructure will cost the average American family more than $1,000 each year by 2020.
Now is the time for the federal government to lead. Secretary Foxx and President Obama have spent months touring the country, telling American families and businesses that we must invest in our nation's future. That moment is no longer someday in the future; it's here. In 78 days, the Highway Trust Fund will become insolvent.
Will Congress #FixTheTrustFund? Our new campaign certainly hopes so, but it is up to the public to make their voices heard.
Patrick Natale, P.E., is Executive Director of the American Society of Civil Engineers.