DOT marks Asian American and Pacific Islander Heritage Month
This May, DOT marks the celebration of Asian American and Pacific Islander (AAPI) Heritage Month by recognizing the contributions this community has and continues to make to the nation's transportation system. 
We join the Department of Labor in recognizing the historic contribution and sacrifice made by the Chinese Railroad Workers, without whom the construction of the transcontinental railroad from 1865 to 1869 would not have been possible. As Acting Deputy Secretary Victor Mendez said at DOT's AAPI Heritage Month Celebration, "Had it not been for 12,000 Chinese laborers –workers who faced prejudice and low wages, and who in some cases lost their lives– this great experiment might never have succeeded."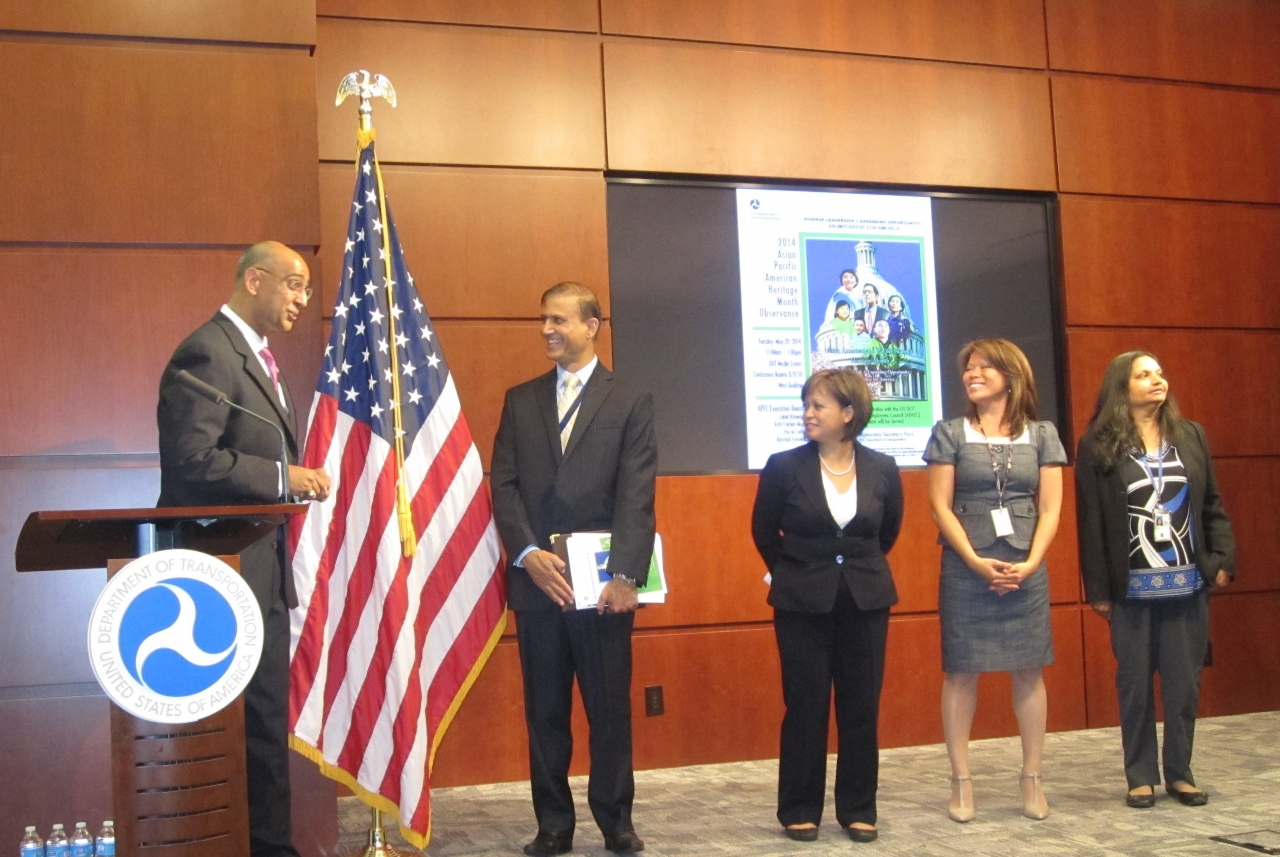 Our AAPI Heritage Month event featured keynote speaker Lt. Col Ravi Chaudhary (USAF), Executive Officer to the Commander, Air Force District of Washington at Joint Base Andrews Maryland, and a member of President Obama's Advisory Commission on Asian Americans and Pacific Islanders. Attendees also enjoyed demonstrations of Taichi Quan, Zhao Bao Style, and a performance by the Filipino dance group Pansak Pindulas.
Here at DOT, we are honored by our many committed employees whose notable contributions and achievements make a significant impact on accomplishing our mission.
In the Bureau of Transportation Statistics, Mindy Liu headed the most recent edition of the popular Pocket Guide to Transportation, ensuring numerous enhancements to the guide's content and layout. She is also a recipient of the Secretary's Excellence Award for her consistently high quality contributions in advancing transportation issues within her office.
At the National Highway Traffic Safety Administration (NHTSA), Senior Mathematical Statistician, Jing-Shairn Wang is the agency's lead expert on identifying the potential impacts of advanced intelligent vehicle technologies. Jing-Shairn was the author of the study that prompted NHTSA's regulation requiring electronic stability control in all light vehicles, a technology that is estimated to save more lives than any other technology except safety belts.  
In the Federal Highway Administration, Connie Yew at the Office of Transportation Performance Management leads a team of transportation specialists to implement the performance requirements of Moving Ahead for Progress in the 21st Century (MAP-21), a program that funds surface transportation programs at more than $105 billion for FY 2013 and FY 2014.
And among our leadership, we are honored to include David Kim, Associate Administrator for Policy and Governmental Affairs in the Federal Highway Administration; Amit Bose, Deputy Assistant Secretary for Government Affairs; and Patricia Hu, Director and Associate Administrator, Research and Innovative Technology.
Our team here in the Departmental Office of Civil Rights also recorded thoughts from AAPI leaders in support of the White House Initiative on AAPI. This video features poignant perspectives from top officials on self-advocacy, mentorship, unexpected opportunities, and facing challenges. You can access the video here or watch it below.
The Department is proud to celebrate Asian Americans, Pacific Islanders, and all of our employees as well as the programs and activities that support inclusion in the DOT workforce and in transportation.