DOT adds Crude-By-Rail safety measures
Please note that the Federal Emergency Management Agency (FEMA) has also published a blog post today on their site: Crude Oil Transport: Working Together to Protect Public Health and Safety.
 
Since 2013, more than two dozen derailments of trains transporting large quantities of crude oil have occurred, including four this year alone. As DOT pursues a comprehensive rulemaking designed to strengthen tank cars, implement appropriate operational controls, and improve emergency response, we are also taking other actions today that will have an immediate impact on safety.
FRA is recommending that only the highest skilled inspectors conduct brake and mechanical inspections of trains transporting large quantities of flammable liquids, and that industry decrease the threshold for wayside detectors that measure wheel impacts to ensure the wheel integrity of tank cars in those trains.

DOT is taking several actions to remind both the oil and rail industries that --after an incident-- they are obligated to make available immediately details about the train and its cargo for use by emergency responders or federal investigators who arrive on scene. PHMSA is issuing a safety advisory reminding carriers and shippers of the specific types of information they must provide to responders. FRA and PHMSA are issuing a joint safety advisory on the specific types of information they must provide to investigators. FRA is asking the Association of America Railroads to develop a formal process by which this specific information is made available. FRA has also proposed expanding the information collected on accident reports for trains transporting crude oil so we can gather better data to inform future safety actions.

Finally, DOT is issuing an Emergency Order requiring that trains transporting large amounts of Class 3 flammable liquid through High Threat Urban Areas operate at a maximum speed of 40 miles per hour.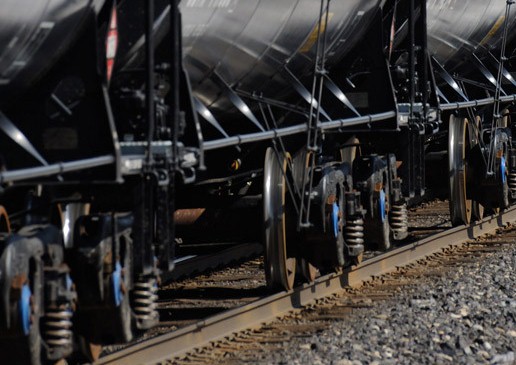 The boom in crude oil production, and transportation of that crude, poses a serious threat to public safety. The measures we are announcing today are a result of lessons learned from recent accidents and are steps we are able to take today to improve safety. Our efforts in partnership with agencies throughout this Administration show that this is more than a transportation issue, and we are not done yet.
Immediately slowing trains to 40 mph, increasing inspections for wheels and related equipment, and having access to information to fully and effectively respond to a derailment will either serve to prevent accidents and mitigate the consequences of an accident should one occur. 
And these actions can be implemented immediately without any waiting period. We do not want to wait one more day to make the rail transport of crude oil safer.
---
America is in the midst of an unprecedented increase in energy production. Today, the United States is producing more oil, gas, and renewable energy, and becoming more energy efficient overall. These trends are increasing our energy security, cutting our carbon pollution, and enhancing our economic growth. One area of substantial energy growth is crude oil, and with this increase in production comes the need to safely transport this oil across the nation. While rail incidents have declined by 47 percent over the past decade and incidents involving the transportation of hazardous...