Big news at Detroit Auto Show on automated vehicles
There is nothing like the annual North American International Auto Show in Detroit. With all of the latest vehicles and automotive technologies on display, it's true hotbed of innovation.
Which makes it a good place for me to announce some terrific news about the Obama Administration's ongoing effort to see connected and automated vehicles developed, deployed, on the market, and available to US drivers.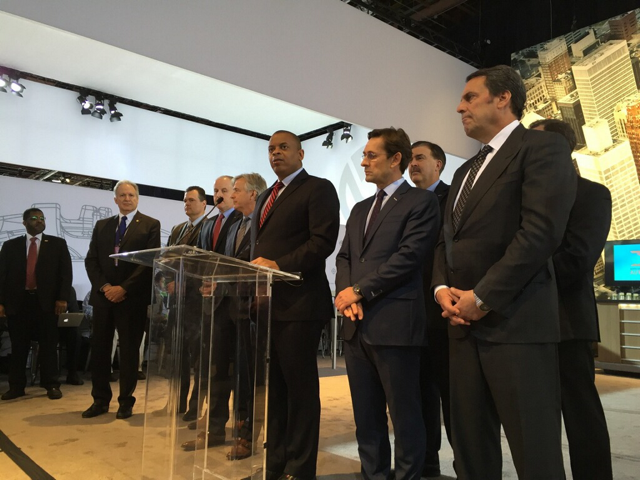 As you know, last month, Congress passed the FAST Act, which was a good down payment on the future of our nation's infrastructure.  But, as the President said in his State of the Union address Tuesday night, there is much more work to be done to reshape and improve our transportation system.
Even with Congress' action late last year, the system's future is in jeopardy.  Here at the auto show I'm seeing great innovations in automotive engineering, but if we don't do something different, drivers in the future will not be zipping down our highways, but struggling in traffic congestion and clogging our skies with the greenhouse gas emissions congestion exacerbates.
Meeting the challenge of a transformation to a cleaner and more modern transportation sector requires infrastructure that reduces congestion not by just paving new lanes, but by making better use of the lanes and capacity we have.  Autonomous vehicles offer us a realistic way of doing that.
In his State of the Union address, the President echoed that message. He was clear that we need to put more resources into transportation infrastructure. And today at the auto show, I focused on one piece of that vision – autonomous vehicles.
Automated vehicles promise to move people and goods more efficiently than we are moving them today. That means less congestion, which means fewer greenhouse gas emissions. It also means reduced fuel use and emissions from the rapid acceleration and sudden braking drivers frequently engage in. And, when automation is combined with other technologies like electric motors and innovations coming out of the sharing economy, we will be able to reduce congestion and pollution even further.
Of course, we at DOT also embrace vehicle automation for the lives it will save by reducing crashes. So, how do we get there?
President Obama has a bold proposal, which I announced today. The President is proposing nearly $4 billion over 10 years to fund pilot projects that help accelerate the development and adoption of safe vehicle automation.  
We need these new technologies to work no matter where in the US we are driving. The President's proposal allows us to test automated and connected vehicle systems in different corridors and different states, and to work with industry to ensure effective interoperability.
The President's proposal, with its combination of public and private effort, is the right way to drive innovation in the transportation sector. Just last month DOT launched our Smart City Challenge, giving medium-sized cities an incentive to embrace automation and connected vehicles as a pathway to our transportation future.  The President is proposing more of this type of funding to equip our cities and states for tomorrow's transportation challenges, and we think it's a great way to move forward.
But our Administration is not waiting for the release of the President's full budget proposal to take action. For several weeks, I've promised new steps to support the safe integration of automated vehicles into the marketplace.  And today in Detroit, I announced several of the steps we'll take in 2016:
Today, the National Highway Traffic Safety Administration – NHTSA -- is releasing an updated policy statement on automated vehicles that recognizes the incredible advances in automated technology over the last few years.
In the next 6 months, we'll offer best practice guidance and propose model state legislation.
We're taking a fresh look at current regulations to see where new interpretations can be made, and inviting manufacturers to continue to ask us to examine other relevant regulations.
And, finally, we're asking manufacturers to request exemptions where they believe automation advances can be deployed safely.
In plain English, this means we are going to do everything we can to advance safe, smart and sustainable transportation innovations like vehicle automation.
Of course, we won't stop there. This is an exciting time in vehicle innovation, and we will be working hard to make sure we protect Americans' safety while supporting innovators.
The President's bold investment proposal I announced today offers us a path toward a transportation future of reduced greenhouse gases, advanced safety, and a nation moving Beyond Traffic. I'm very optimistic about this path, and I hope Fast Lane readers share my enthusiasm.