Delivering on President Obama's Year Of Action: Improved fuel efficiency standards for trucks
In his State of the Union address, President Obama committed to a Year of Action in which he would do what he can to expand opportunity for all so that every American can get ahead and have a shot at creating a better life for their kids. As part of that, he promised to set "new standards for our trucks, so we can keep driving down oil imports and what we pay at the pump."
Today, the President followed up on that promise by setting the timetable for the Administration's second round of fuel efficiency standards for medium and heavy vehicles, which will bolster energy security, cut carbon pollution, and support manufacturing innovation, all while saving businesses and consumers money.

President Obama makes today's heavy-truck fuel efficiency announcement at a Safeway distribution center in Upper Marlboro, MD. Photo is courtesy of Getty Images.
As a result, DOT and the Environmental Protection Agency (EPA) will issue a Notice of Proposed Rulemaking by March of next year, with the new greenhouse gas standards--covering the 2018 model year and beyond--becoming final by March 2016.
The new rule will build on the success we've already seen through our 2011 fuel efficiency rule –the first ever for medium- and heavy-duty vehicles.  Thanks to it, vehicle owners and operators will see an estimated $50 billion in fuel costs –savings that are good for business, and maybe good for consumers, too, who pay for the goods they move. The operator of one new 2018 semi-truck could pay for the cost of the upgraded fuel-efficiency technology in less than a year and realize net fuel savings of $73,000 over the truck's useful life. And the rule is projected to save a total of 530 million barrels of oil and approximately 270 million metric tons of greenhouse gas emissions.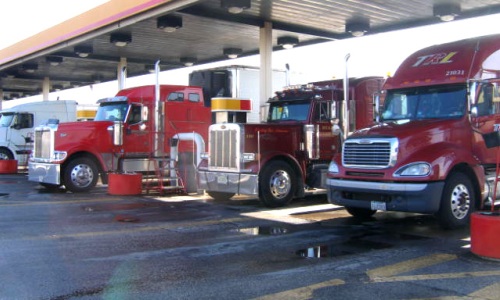 Increasing the efficiency of medium-and heavy-duty vehicles is a key part of President Obama's Climate Action Plan to reduce carbon emissions. Reducing fuel consumption in these vehicles offers us a tremendous opportunity to cut transportation oil use and carbon pollution. In 2010, heavy-duty vehicles represented just four percent of registered vehicles on our roads, but they accounted for almost 25 percent of on-road fuel use and greenhouse gas emissions. Next to passenger vehicles, heavy-duty vehicles are the second-largest source of greenhouse gas emissions within the transportation sector.
DOT and EPA will work closely with stakeholders large and small to explore further opportunities for fuel consumption and emissions reductions beyond the model year 2018. We will also work closely with the California Air Resources Board to ensure consistency between Federal and Golden State standards. By working together, we can ensure that manufacturers are able to continue building a single national fleet.
In March 2012, President Obama launched an all-of-the-above approach to develop homegrown energy, as well as steady, responsible steps to cut carbon pollution so we can protect our kids' health and begin to slow the effects of climate change. Today's announcement is another cost-effective step toward achieving those important goals.