On 8/11 and every day, Call 811 before you dig
With the Nats sitting high in the division standings this summer, it's a treat for the Washington, DC, region to be heating up from baseball fever instead of from the typical summer sweltering. So it was a pleasure to stop by Nationals Park last Thursday to help deliver an important safety message: Call 8-1-1 before you dig.
Since August 11 (8/11) is "Call 811 Day," it's a message I'm happy to deliver to Fast Lane readers, too.
Not only did we get the chance to talk about 811 with everyone attending the game that day, but we also announced winners from DOT's first-ever 8-1-1 student safety poster contest. These fourth, fifth and sixth graders kept our message fun, simple, and easy to remember. Congratulations to our sixth-grade grand prizewinner Sarah K., of Fairfax, Virginia, and our eleven runners-up Natalia P., Kristen P., Luke M., Alyssa S., Anne B., Kaydence G., Lynnlee V., Malia R. Matthew W., Sophia G., and Wyatt R.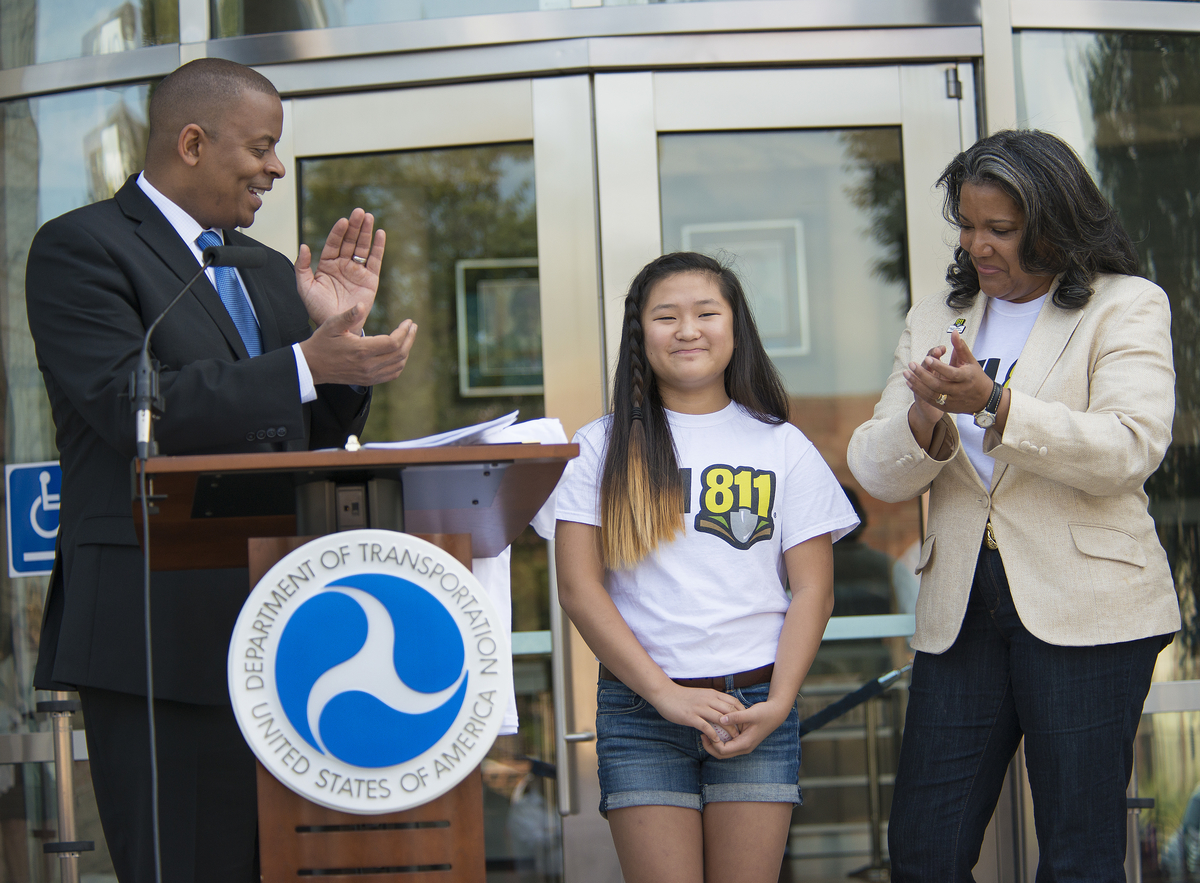 The poster contest was designed to educate children about energy safety and tap into their creative ways of reminding all of us to make the right call before we begin a project that involves digging.
Every day, the nation's 2.6 million-mile pipeline network delivers the energy products we need to travel, cook, and keep our homes and businesses running. These pipelines are running beneath our homes and along our roads. Accidentally striking one of these buried pipelines with a shovel, a backhoe, or any kind of digging tool can cut off your neighborhood's power. Even worse, a pipeline rupture can cause serious injuries or death.
Fortunately, these accidents can be easily prevented. One toll-free call to the National 8-1-1 Hotline notifies local utility companies of your pending project --maybe you're putting in a post for a new mailbox, or you've hired a contractor to build a deck. The utilities will send a representative to locate and mark buried utility lines, including energy pipelines, so you can avoid them when you're digging.
Chances are good that you or someone in your neighborhood broke ground or is breaking ground for an outdoor project this summer. And they naturally want to finish the job as quickly as possible. But taking a time-out to Call 811 is time well spent.

Sarah's winning poster!
With our pilot poster contest, we're trying to make sure kids learn that important safety lesson early on. After all, safety involves the whole family, and that includes avoiding damaging buried pipelines in our communities. If your kids know about 9-1-1, they should also know 8-1-1.
Want to get your kids or students involved in our poster contest next year? Stay tuned to the Fast Lane where we'll announce the 2015 contest.
In the meantime, on 8/11 and every day, listen to the kids who sent us their posters this year and call 8-1-1 before you dig.