2014 promises improved bus safety
Motorcoach travel provides mobility and connectivity for millions of Americans of all ages. In fact, last year, buses carried nearly three quarters of a billion passengers around the country. Motorcoaches help us meet our enormous energy and environmental challenges by removing cars from our roadways and reducing congestion. They are a major part of a vibrant national transportation network.
They also provide one of America's safest forms of transportation. But our job at the Federal Motor Carrier Safety Administration is to make it even safer. DOT and FMCSA are committed to the vision that passengers should enjoy the same standard of safety regardless of whether they are traveling by car, bus, train, or plane.
That's why my message to the American Bus Association's Bus Industry Safety Council yesterday was unequivocal: In 2014, FMCSA will be relentless in our pursuit of one level of safety for all bus passengers.
In 2013, we developed and launched a new approach toward saving lives. It's our multi-phased Motorcoach Safety Initiative, and it's working.
Operation Quick Strike began in April with more than 50 FMCSA special agents receiving enhanced investigations training.  These special agents fanned out across the country in small teams to conduct in-depth investigations into the business practices and operating patterns of the 250 most at-risk bus companies.
The results of Operation Quick Strike were astounding, and the safety benefits dramatic. By December, 52 dangerously unsafe bus companies and 340 buses were put out of service and removed from the road.
We are now training all our special agents to use the new tactics deployed during Quick Strike to uncover and stop not only unsafe bus operations, but unsafe trucking operations as well.
This is the new normal; it's how we now do business. Unsafe companies must either improve their safety performance or get off the road.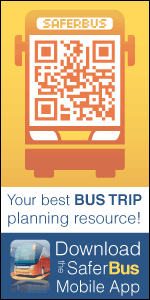 Through Consumer Outreach, we continue to encourage everyone who travels by bus to "Look Before You Book." We want anyone planning a bus trip to first consider the company's safety performance history; safety rating; authority to operate; and insurance levels (minimum of $5 million).
With our SaferBus smartphone app, we have organized this information so it can be viewed on Android or iOS devices. SaferBus is a quick way for consumers to review a bus company's safety record before buying a ticket or chartering a bus. The app also enables users to file complaints about safety violations with our National Consumer Complaint Database.
Additionally, FMCSA's Look Before You Book site contains resources that tell consumers what they need to know before booking a trip or hiring a motorcoach. This webpage offers a wealth of information for consumers and for industry, and we urge everyone to "Look Before You Book."
Through a range of national organizations, we also continue to raise awareness that price shouldn't be the only consideration when chartering a trip. Our goal is for all groups and individuals connected to bus travel to hear our safety message.
Looking ahead, we are moving forward with a wide range of New Programs and Policies to Get Us There. These include several rulemakings such as requirements for written documents for leases of buses; electronic logging devices; the National Registry of Certified Medical Examiners for commercial motor vehicle (CMV) drivers; and a drug and alcohol clearinghouse for CMV drivers.
We have also helped develop, and posted on our website, a free program to help companies and drivers manage driver fatigue.
The ten modules range from safety management practices to sleep disorder management to driver scheduling and tools. It features interactive learning tools to give users an opportunity to test their knowledge of fatigue; a manual on what it takes to carry out a fatigue management program for a truck or bus company; and a return-on-investment calculator to assist company executives in determining the costs versus benefits of using a fatigue management program.
These are responsible, effective measures to add to our motorcoach safety toolkit. And in combination with our Motorcoach Safety Initiative and our consumer outreach efforts, they will help us get closer to our singular goal: one level of safety for all passengers.
 
Anne Ferro is Administrator of the Federal Motor Carrier Safety Administration.