Bicycling, walking should be as safe as any other transportation
The annual "Pro Bike, Pro Walk, Pro Place" Conference held this week in Pittsburgh was founded on the belief that greater access to walking and bicycling creates healthier individuals, more cohesive neighborhoods, and more vibrant communities. Here at DOT, we believe those are three pretty valuable goals, but like the transportation professionals gathered in Pittsburgh this week, we also know that access won't do a lick of good unless it's safe access.
The data from the National Highway Traffic Safety Administration make it clear: even as automobile travel has never been safer, pedestrian and bicyclist injuries and deaths are on the rise. I went to Pittsburgh this week to let folks know that I think this is a problem, and that this Department is putting together the most innovative, forward-leaning, biking-walking safety initiative ever.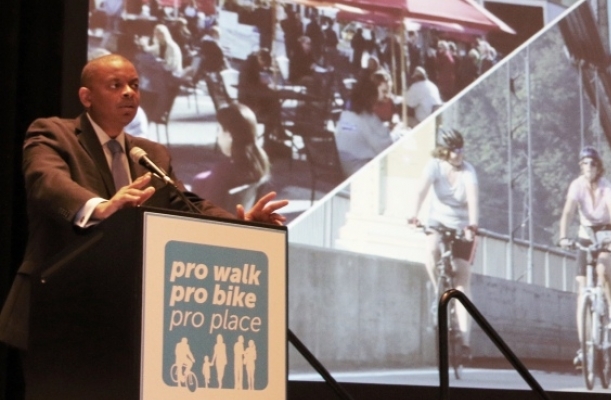 Fast Lane readers know that I've seen this problem close-up –as a guy who's been struck by a car while on foot even when I had the right of way; as mayor of Charlotte, NC, where a child was hit by a car because there was actually no sidewalk for her to walk; as Transportation Secretary when one of my favorite team-members and his friend were hit by a car just two weeks ago (his friend was killed, and he suffered serious injuries); and as a father who sends his kids out every day, praying they'll be safe.
Americans are walking and biking more and more, not just for kicks, but for sensible transportation. When President Lyndon Johnson established DOT, he said "keeping the traveling public safe from harm" should be our top priority. So when we talk about "the traveling public," we must include pedestrians and bicyclists.
If you are walking or bicycling, you should know that your safety is every bit as important --and just as much of a concern to the U.S. Department of Transportation-- as the safety of an airplane passenger, a transit rider, or someone in a motor vehicle.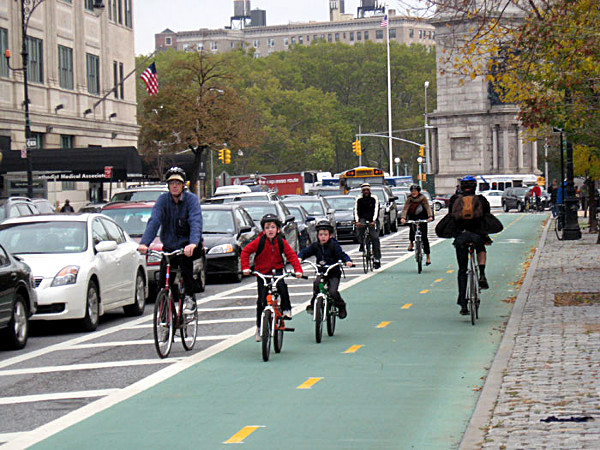 For years, the message pedestrians and bicyclists have been given is, "You walk or bike at your own risk; be responsible for your own safety."
But that's not good enough. We can't just tell pedestrians and bicyclists, "Be safe," without recognizing that in many places there is no safe space for them to be.
After all, we don't only tell drivers, "Just drive under the speed limit." We don't just tell ship captains, "Don't run aground." We make sure our highways are well-paved and well-marked, and that our sea lanes are navigable.
We have long recognized that government has a role to play by creating safe infrastructure for travel; it's time to make sure that includes everyone.
So, I'm proud to announce DOT's new approach to bike-ped safety. It will create safer streets, safer communities, and safer policies, and it will raise the bar on safe infrastructure.
One of our top priorities will be closing those gaps in pedestrian and bicycle networks, where –even when people are following all the rules– the risk of a crash is too high.
At DOT, we just finished hosting pilot walking and bicycling assessments in Boston, Fort Worth, and Lansing. We brought together all of our stakeholders; we identified gaps; and we found ways to fix them.  This experience will provide the rest of our field offices with a road map for the next several months when we'll be leading one of these assessments in every single state in the U.S.A.
As we identify the gaps, we'll also be developing a new set of tools and resources to help us close them. We'll be releasing more about this new toolset over the next 18 months, so stay tuned. To guide our efforts, we've also launched a Pedestrian and Bicycle Safety Action Team.
And we plan to re-examine our own policies and practices that --without intending to do so-- have occasionally resulted in road designs that shut out people on foot and on bicycle.
With these first few big steps, we're charting a new course for bicyclist and pedestrian safety.