"America on the Move," looks at infrastructure investment, finds consensus
Yesterday, I was proud to represent DOT at an infrastructure conference, "America on the Move," hosted by Bloomberg Government (BGOV) and Building America's Future. It was my pleasure to join such other advocates for faster, stronger, and safer American transportation as U.S. Representative Bill Shuster, Chair of the House Transportation Committee; former Pennsylvania Governor Ed Rendell, and my dear colleague--and former boss--former U.S. Transportation Secretary Ray LaHood. I was there to share the priorities of U.S. Transportation Secretary Anthony Foxx, an equally staunch champion of improving the way we move our nation forward.
The most compelling thing I noticed at yesterday's meeting of the transportation minds was something that has been increasingly rare here in Washington, DC: general agreement. That's right; from both sides of the aisle, from the public and private sector, there is a strong consensus: America's infrastructure deficit is real, and it's growing.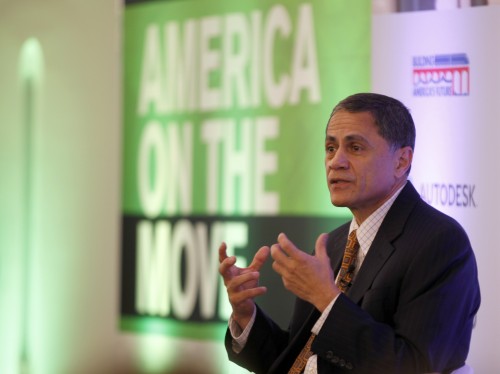 For nearly a decade now, we haven't invested in our transportation systems like we should. The Recovery Act provided a tremendous boost, but the deficit far exceeded the scope of that stimulus. Our transportation infrastructure is crying out for investment, and as the President said in his State of the Union address last week, "First-class jobs gravitate to first-class infrastructure."
Of course, it's hard to have a conversation about transportation investment without talking about funding. The good news is that we heard interesting ideas yesterday from Chairman Shuster as well as Gov. Rendell and Sec. LaHood--both of whom now represent Building America's Future. And there are other ideas in circulation on Capitol Hill, including President Obama's proposal to use the proceeds from corporate tax reform. So, we're committed to working with Congress to fund the transportation projects that will help our nation thrive in the 21st century.
However the funding is generated, it needs to be part of a long-term surface transportation reauthorization bill, and we need to pass one for rail, too. Everyone from our state departments of transportation to the contractors who can create jobs across this country to the workers who need those jobs--they're all looking for certainty.  But if you're looking for certainty, you can't find it in another two-year bill. And it was encouraging to hear that same idea echoed by every one of yesterday's speakers, including Chairman Shuster, who said, "We don't want a two-year bill, we want a five- or six-year bill."
Now, while funding is important, it's only part of the conversation. Secretary Foxx and I believe we're missing out on a huge opportunity to improve transportation if we don't make the most out of every dollar we receive.
And if we're going to get more big projects off the ground--if we're going to attract private investment to those projects--the Department of Transportation has to lead by example. That's why we're doing everything possible to work better, faster, and smarter for the American people.
We're taking action in every area of the Department. From streamlining our permitting and environmental review processes, to cutting down on paperwork for truckers, to accelerating the construction of highway projects with the best practices found in our Every Day Counts program, we are setting a pretty good pace for innovating toward greater efficiency.
By pairing this spirit of efficiency with a long-term transportation bill that includes robust funding, we can do more and build better, creating a transportation system that connects people across America with economic opportunity and a better quality of life.
 
VIctor Mendez is Acting Deputy Secretary of Transportation.