As Pope Francis urged, the need is great; we must respond
Last week, our nation hosted Pope Francis.  I was fortunate to have a front row seat at his historic speech to the U.S. Congress, and I listened intently as he touched on many topics.  
In a city often overheated with clever catchphrases and slogans, Pope Francis explained the challenges faced by "many thousands of men and women who strive each day to do an honest day's work, to bring home their daily bread, to save money and –one step at a time– to build a better life for their families. These are men and women who are not concerned simply with paying their taxes, but in their own quiet way sustain the life of society."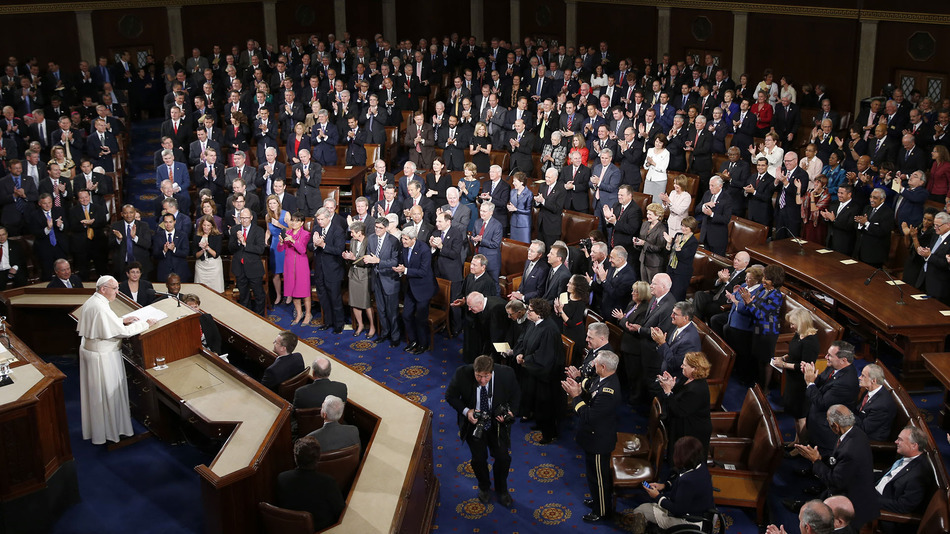 Although I am not Catholic, his urging to treat others as we would wish to be treated spoke to me with particular force because, throughout my tenure, I have worked to deliver a transportation system even more responsive to those among us who struggle hardest for a shot at the American Dream.
In this country we not only believe in the American dream; we are inspired by it. We take pride in the stories about people who have beaten the odds to live lives of significance and contribute back to the public.
But the hard truth is that most people born into poverty in America are not escaping it. For generations the probability of someone born into poverty moving into the middle class has stayed below 10 percent. In Charlotte, where I grew up, the odds of someone escaping poverty are below 5 percent.
How do we close this opportunity gap? Clearly education, housing, job training, and health are all important pieces of the puzzle. But what is a school or a home or a job or a doctor if you cannot get to them?  Moreover, while we strive to develop transportation systems that get us to places faster, we have built road, rail, transit, and airports that have cut off entire communities from the access they need to thrive.
We intend to build a transportation system that aspires to more than just accelerated throughput; we want a system that is itself connective tissue, bringing together origins and destinations and the places in between.  
We want overpasses that are no longer walls, public input processes in which the voices of all of our neighbors are meaningfully heard.  We want transportation planners and decision-makers at every level thinking differently about how their decisions impact underserved neighborhoods and communities.  We also want to see more people, from all backgrounds, aspiring to operate and build our transportation system.
As part of this effort we have reached out to communities struggling with upward mobility to see how we could help them. In fact, through a pilot program called LadderSTEP, we are now working with seven cities –Phoenix, Atlanta, Indianapolis, Baton Rouge, Baltimore, Richmond, and Charlotte– on transportation projects that local leaders say will enhance opportunities for folks to lift themselves out of poverty and into the middle class.  
Too often, projects that will enhance upward mobility are the last to be discussed and the first to be discarded.  Through this effort, we are working to give communities the courage to tackle bringing down the walls of transportation and reconnecting their most vulnerable citizens.
We also have prioritized opportunity in our grant programs such as TIGER, including to reconnect those communities that were cut off. In Rochester, New York, for example, we are helping them tear down an urban expressway. The road –Rochester's inner loop– was built in 1965 to facilitate commerce downtown. Instead, it had the opposite effect, forcing the relocation of poor residents, dividing the city along economic lines, and even hampering broader economic development strategies. When the project is complete, the inner loop will no longer divide the city, but will instead be the connector that knits Rochester back together.
There is a safety component, too.  Low-income Americans walk or ride a bicycle to get to work disproportionately more than any other group of Americans. Yet the neighborhoods they live in lack many of the safe facilities for walking and biking that higher-income neighborhoods have. Fewer than 50 percent of low-income neighborhoods, for instance, have sidewalks, compared to 90 percent in wealthier areas.
This discrepancy is not without its consequences, either. People walking or biking are struck by vehicles and killed twice as often in economically distressed neighborhoods. Today our "Safer People, Safer Streets" initiative is working with communities to conduct street assessments and support street designs that are safer and more accessible for everyone.
Transportation is not just bricks and mortar; it also lifts our economy and creates jobs.  
We have asked ourselves hard questions about how our sector can close the opportunity gap in America. How can we give someone a shot at working on a project in their community? How can we get someone the training they need to pursue a good-paying career in the transportation sector?
Through our new Local Hire pilot, we're allowing communities building with federal funding to have a hiring preference for local residents. This is something that has not happened in more than 40 years. We also recently provided grant funding to workforce programs, focused on transit careers, that will provide eager, hard-working people with apprenticeships and skills training to gain entry into a new field.
We're fortunate that America has been blessed with opportunity. But there is a great need to improve access to that opportunity, and we must respond. I firmly believe that transportation is the next frontier in widening opportunity –addressing the physical barriers we have created over time through restorative design; improving public input processes; putting new projects on the table to create strong access points and revitalize underserved rural and urban areas; and working ever harder to ensure opportunities for work in this vital sector.  Here at DOT, we will continue seeking the right policies and practices, challenging every one of our agencies to help everyday, hardworking Americans connect to the 21st Century economy.  
Thank you, Pope Francis, for reminding us that everyone deserves a chance.