President's 2015 Budget Request charts course to Rebuild America
At the Department of Transportation, we've been talking for months –if not years– about a critical deficit that is undermining our ability to grow our economy, undermining our ability to get where we need to go, and undermining our safety: America's infrastructure deficit.
If you've been reading this blog, then you've heard me talk about 100,000 bridges old enough for Medicare, billions of dollars in backlogged transit projects, and the growing costs of waiting as cities and states put their transportation plans on hold. And you've seen our highway trust fund ticker and know how close we are to running out of money altogether.  
But a week ago, that all changed. Because last Wednesday, President Obama laid out his vision for a four year, $302-billion-dollar transportation plan to modernize this country's infrastructure and put us on the path to solving the problem I described above.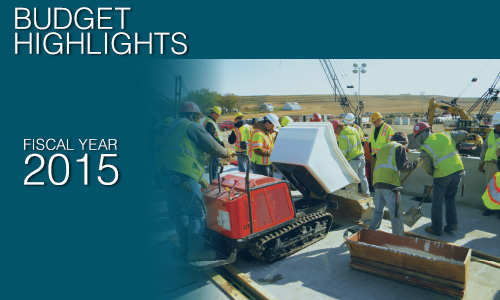 And today, with the President's 2015 Budget Request, we're releasing the details of that proposal, along with a pledge to send a bill to Congress with the program-by-program details.
The President's plan will improve America's highways and transit networks, continue building on the Department's overall safety record, and ensure a stable funding source for rail.  The proposed budget would be paid for $150 billion from transition revenue generated from business tax reforms, along with current revenues from the gas tax.
In addition to closing the $63 billion hole in the Highway Trust Fund and reversing our infrastructure deficit, today's proposal will also:
Improve transportation efficiency with a new Interagency Permitting Improvement Center to help us continue streamlining permitting processes so we can deliver projects faster and work towards the President's goal of cutting timelines in half;
Boost the safe transportation of energy products with a comprehensive approach --from increased inspections and investigations to new research and cross-agency projects--so the United States can continue on track toward becoming the world's top oil producer by next year;
Increase freight capacity to allow us to move 14 billion additional tons of freight in this country by 2050;
Build ladders of opportunity through infrastructure investment that is not just about pouring cement and lifting steel, but about helping people get home faster and connecting them with jobs, schools, and a better quality of life.
President Obama has offered the kind of aggressive transportation budget our country needs – one that replenishes the highway trust fund today while also helping ensure the country has a safe, efficient transportation system for tomorrow. These funds will do everything from helping communities tackle their transportation to-do lists to improving access to ladders of opportunity. 
And at the Department of Transportation, we will do everything we can to make this budget a reality.