2013 DOT Year in Review: FTA keeps transit passengers moving safely, efficiently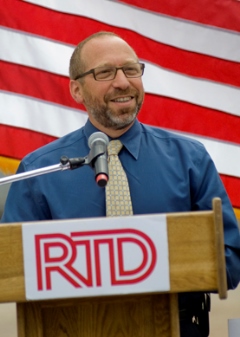 Over the past year, the Federal Transit Administration has delivered on a number of goals, highlighting our ability to truly make a difference in the lives of millions of Americans each day.
Bringing New and Expanded Transit to Communities Nationwide
FTA celebrated dozens of construction starts and grand openings around the country in 2013 for new and expanded transit service and facilities. These will improve the quality of life for millions of hard-working families, create jobs, and jump-start billions of dollars in local economic development—from hotels and hospitals to shops and apartments.
We announced TIGER grants bringing new and expanded transit services to Nashville, El Paso, Kansas City (KS), as well as the promise of new streetcar service to revitalize Woodward Avenue in Detroit. We celebrated the grand opening of the first rural bus rapid transit line in the nation, the VelociRFTA, saving both time and money for long-distance commuters living in the Roaring Forks Valley of Colorado.  We opened the new Loyola Streetcar line just in time for Super Bowl XLVII in New Orleans. And we signed a major new construction grant agreement to extend commuter rail in Southern California's Perris Valley—one of the state's most congested corridors. The list goes on, of course.
Common-Sense Improvements Boost Safety, Efficiency
While all this was under way, we continued making progress to implement game-changing policies and programs introduced by the Obama Administration and supported by MAP-21.
For example, our new safety authority marks a significant change in how we do business to keep transit safe for millions of riders and transit workers. We are working closely with state leaders, the transit industry, and trusted safety experts to build a foundation for common-sense policies and procedures that take into account the unique needs and circumstances of each transit agency.
We also focused intently on what it really means to bring aging transit infrastructure into a state-of-good-repair, as we prepare to issue new guidance to our grantees to help them do a better job balancing investments in new and aging transit facilities.
FTA's been hard at work creatively cutting red tape and bureaucracy to put hard-earned tax dollars back into families' pockets.  We significantly streamlined our programs to save both money and time. For example, we made changes to help communities shave six months off the time that's required to move major New Starts projects from concept to construction. We also unveiled our new STOPS tool that will help reduce from two years to two weeks the time needed to develop ridership forecasts on planned projects.  This new tool may also save taxpayers in some communities upwards of a million dollars. 
Delivering Aid Where It's Needed Most
Finally, I'm enormously proud of FTA's response to Hurricane Sandy – the worst transit disaster in U.S. history—which impacted approximately 40 percent of transit service from Washington, DC to Boston at the height of the storm, while devastating public transit in the New York and New Jersey metro area for days and weeks after the storm passed. I want our grantees, and our customers who depend on public transit each day, to know this: we were with you before, during, and after the storm; and the FTA intends to be with you long into the future making sure public transit is more resilient in the face of future disasters.
The year ahead is sure to bring many significant challenges, and we look forward to working with Congress to help deliver the public transportation networks our nation needs to thrive and compete in the 21st century.
 
Peter Rogoff is Administrator of the Federal Transit Administration.