2013 DOT Year in Review: FMCSA makes solid progress in truck and bus safety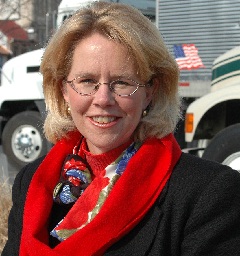 The Federal Motor Carrier Safety Administration accomplished a great deal in the name of safety in 2013.  We continued cracking down on unsafe drivers and companies, implementing new safety rules, and protecting consumers against deceitful moving companies.
Preventing deadly bus crashes is at the top of FMCSA's safety agenda.  In 2013 FMCSA and our partners in industry and law enforcement developed new approaches to save lives.
Always on the front lines for safety, FMCSA implemented a three-phase plan known as the Motorcoach Safety Initiative.  Phase I included Operation Quick Strike, with more than 50 FMCSA Special Agents receiving enhanced investigations training. Beginning in April, these special agents fanned out across the country in teams to conduct in-depth investigations into the business practices and operating patterns of the 250 highest-risk bus companies.
The results were astounding. By December, 52 bus companies and 340 buses were put out of service and removed from the road.
FMCSA is now training all of our special agents to use the new tactics deployed during Operation Quick Strike to uncover and stop unsafe bus and truck operations.  We continue to encourage everyone who travels by bus to Look Before You Book using our free SaferBus app and the safety information on our website. In addition, we are making connections throughout a range of national organizations --school-based, religious, seniors, and travel planners-- to raise awareness about thinking Safety, every trip, every time.
For truckers, starting on July 1 2013, FMCSA's hours-of-service rule took full effect.  Completed with unprecedented transparency, this rule achieves a delicate balance of stakeholder interests to advance safety in trucking operations. It makes common-sense changes --like adding a 30 minute rest break to the work day and reducing the maximum average work week from 82 hours to 70-- that reduce the risk of driver fatigue.
Based on years of scientific research and extraordinary stakeholder outreach, this fatigue-fighting rule has withstood Congressional hearings and a court challenge since it went into effect. We are pleased that it will save some 19 lives and prevent approximately 1,400 crashes and 560 injuries each year.
In 2013, FMCSA made important strides for consumers by cracking down on unscrupulous moving companies.  In July, we revoked and suspended the operating authority of three Chicago-area household goods moving companies and assessed civil penalties against all three carriers.  As recently as November, our investigators shut down five more carriers in Florida, South Carolina, and New Jersey for holding shipments hostage and refusing to turn over records related to the investigations.
The safety results and improved consumer protection FMCSA is achieving are possible because of the partnerships FMCSA employees create with state and local law enforcement and industry leaders.  Together, we remain relentless in our pursuit of safety for all travelers on our highways.  FMCSA's dedication to saving lives is at the forefront of our daily work, and rising above the challenges we face in truck and bus safety is what FMCSA employees will continue to do each and every day in 2014.