Justice40 Initiative
We've recently updated our website.
Department of Transportation's Justice40 Informational Video
Department of Transportation's Justice40 Informational Video (Spanish)
What is the Justice40 Initiative?
The Biden-Harris Administration created the Justice40 Initiative to confront and address decades of underinvestment in disadvantaged communities. The initiative will bring resources to communities most impacted by climate change, pollution, and environmental hazards.
Here at the U.S. Department of Transportation (USDOT), Justice40 is an opportunity to address gaps in transportation infrastructure and public services by working toward the goal that at least 40% of the benefits from many of our grants, programs, and initiatives flow to disadvantaged communities.
Justice40 is not a one-time investment, nor is it a single pot of money.  Rather it is a government wide initiative that makes a series of changes to ensure benefits reach communities most in need. Through Justice40, USDOT will work to increase affordable transportation options, that connect Americans to good-paying jobs, fight climate change, and improve access to resources and quality of life in communities in every state and territory in the country.
The initiative allows USDOT to identify and prioritize projects that benefit rural, suburban, tribal, and urban communities facing barriers to affordable, equitable, reliable, and safe transportation. Through Justice40, USDOT will also assess the negative impacts of transportation projects and systems on disadvantaged communities and will consider whether meaningful public involvement is taking place throughout a project's lifecycle.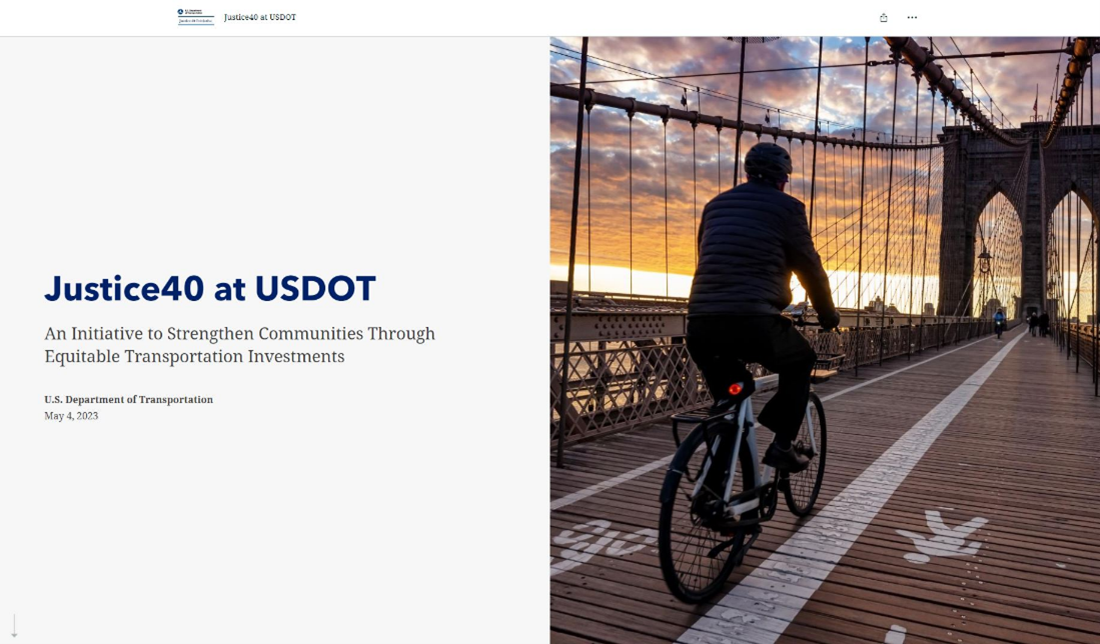 Department of Transportation's Justice40 Story Map, describes DOT's approach to Justice 40 including three case studies. The Story Map uses the ETC Explorer to demonstrate the connection between the components of disadvantage for each case study and how each project's benefits may help reverse or mitigate how the community experiences disadvantage.
Read our KPI summaries
Justice40 Key Performance Indicator (KPI) Summary - USDOT has identified several Key Performance Indicators (KPIs) to monitor implementation of USDOT's FY 2022-2026 Strategic Plan and the Equity Action Plan. This KPI, which is "work to meet the Justice40 goal that 40% of the benefits of certain Federal investments flow to transportation disadvantaged communities," is included in the most recent Equity Action Plan and is also in the Strategic Plan under slightly different language. This KPI is helping USDOT meet the goals of the government-wide Justice40 Initiative that seeks to deliver 40 percent of the benefits of certain Federal investments to disadvantaged communities that face burdens related to climate change, the environment, health, and economic opportunity. This document summarizes the status of the KPI and how USDOT is working to achieve this measure through certain covered programs using defined terminology, newly developed tools, and an established methodology.  The document also outlines why the KPI is important to USDOT's mission, and what USDOT is doing to advance the goals of the Justice40 Initiative.
The cost of transportation, impacts the total dollars that households spend on transportation. When people spend a greater percentage of annual household income on transportation (transit costs; vehicle maintenance and insurance costs; gasoline and fuel) they have less money left to spend on food, housing, education, and other important needs. USDOT considers a household to be transportation cost burdened if its spends 15% or more of its annual income on transportation and 45% or more on transportation and housing combined.  To read more about USDOT's Cost Burden KPI Public Summary Review.
DOT has traditionally played a critical role in maintaining and improving the transportation network across the Nation through Federal funding. Each year, the Department awards discretionary grants through a competitive process based on legislative and regulatory requirements, as well as published selection criteria. DOT is committed to ensuring that historically overburdened and underserved communities in urban and rural areas benefit from access to the Bipartisan Infrastructure Law's (BIL) generational investment in the Nation's infrastructure and created a performance measure to help advance that goal. Discretionary Grant KPI Public Summary Review document.
About the ETC Explorer
USDOT's Equitable Transportation Community (ETC) Explorer, is an interactive web application that uses 2020 Census Tracts and data, to explore the cumulative burden communities experience, as a result of underinvestment in transportation, in the following five components:  Transportation Insecurity, Climate and Disaster Risk Burden, Environmental Burden, Health Vulnerability, and Social Vulnerability.  It is designed to complement Climate & Economic Justice Screening Tool (CEJST) by providing users deeper insight into the Transportation disadvantage component of CEJST, and the ETC Explorer's Transportation Insecurity component, which will help ensure the benefits of DOT's investments are addressing the transportation related causes of disadvantage.  USDOT's ETC Explorer is not a binary tool indicating whether a census tract is considered disadvantaged or not; rather it is a dynamic tool that allows every community in the country the opportunity to understand how it is experiencing burdens that transportation investments can mitigate or reverse.    
Want more information on Justice40? 
Department of Transportation's Justice40 Fact Sheet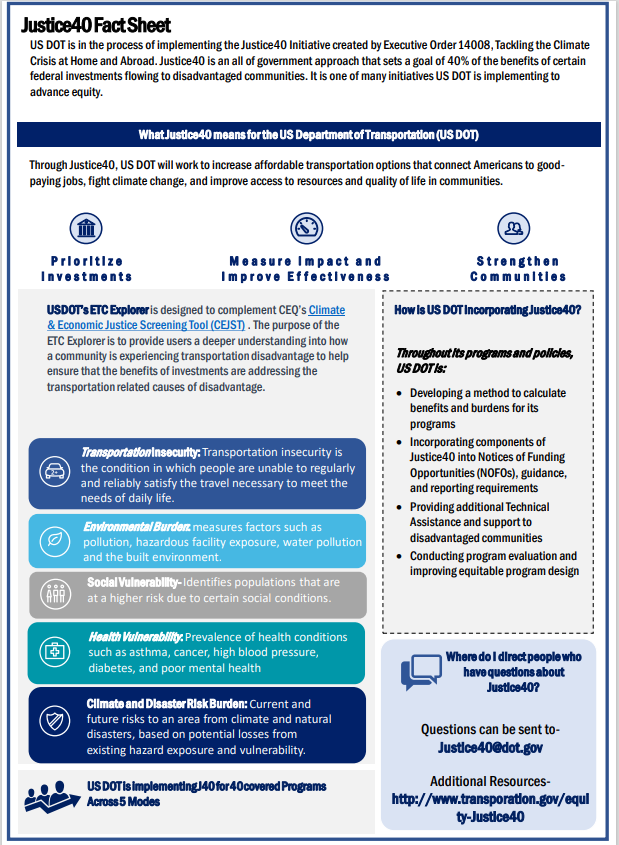 Questions or comments on USDOT's Justice40 work please email:
---
Interested in hearing the latest on our equity work?