The USDOT Volpe Center's Annual Project Accomplishments
The world of transportation is undergoing an exciting time of invention and development, and working through cross-modal partnerships and public service, the USDOT's Volpe Center is at the forefront of innovative solutions that advance national and global transportation systems.
As a leader in transportation systems, analysis, and innovation, the Volpe Center is flexible and responsive to the needs and strategic goals of the USDOT and the priorities of the Secretary of Transportation: safety, infrastructure, innovation, and accountability.
Volpe's Annual Accomplishments highlights some of their best work from the past year, including advances in safety and automation technologies to developments in resilient infrastructure. Volpe's collaborative efforts with every USDOT operating administration and key partners is integral in making American transportation more reliable and more efficient.
Here are a few highlights:
Preparing for the Future of Transportation: Automated Vehicles 3.0
In recent years, the Volpe Center's automated vehicles team has developed strategy, research, and policy approaches for automated vehicles projects with many surface transportation modes. Because of this expertise, the Office of the Secretary of Transportation asked Volpe to assist with development of Preparing for the Future of Transportation: Automated Vehicles 3.0, the first federal automated vehicle guidance to take a multimodal approach.
The Volpe team worked closely with OST officials and experts from USDOT modal administrations to incorporate extensive feedback from manufacturers and technology developers, infrastructure owners and operators, commercial motor carriers, the bus transit industry, and state and local governments
Integrating Safety Data with the Waze Pilot Project
Volpe Center data experts are leading the Waze Pilot Project in support of the Office of the Under Secretary for Policy, which is advancing USDOT's vision of integrating government data with big data from private companies to estimate crash risk and indicate reportable traffic crashes in a reliable and timely way.
Developing Characteristics of Motorcycle Crashes to Inform Crash Avoidance Research
Motorcycles make up just 0.63 percent of all vehicle-miles traveled in the U.S. and only 3.2 percent of all registered motor vehicles—but they account for more than 14 percent of annual traffic fatalities. Significantly reducing motorcycle crashes would greatly improve overall roadway safety.
NHTSA teamed with the Volpe Center to define the characteristics of motorcycle crashes in order to inform and guide motorcycle crash avoidance research and technology development. This is especially important as vehicle equipment manufacturers develop technology-based safety applications and automated driving systems that can avoid crashes or alert drivers to potential crashes.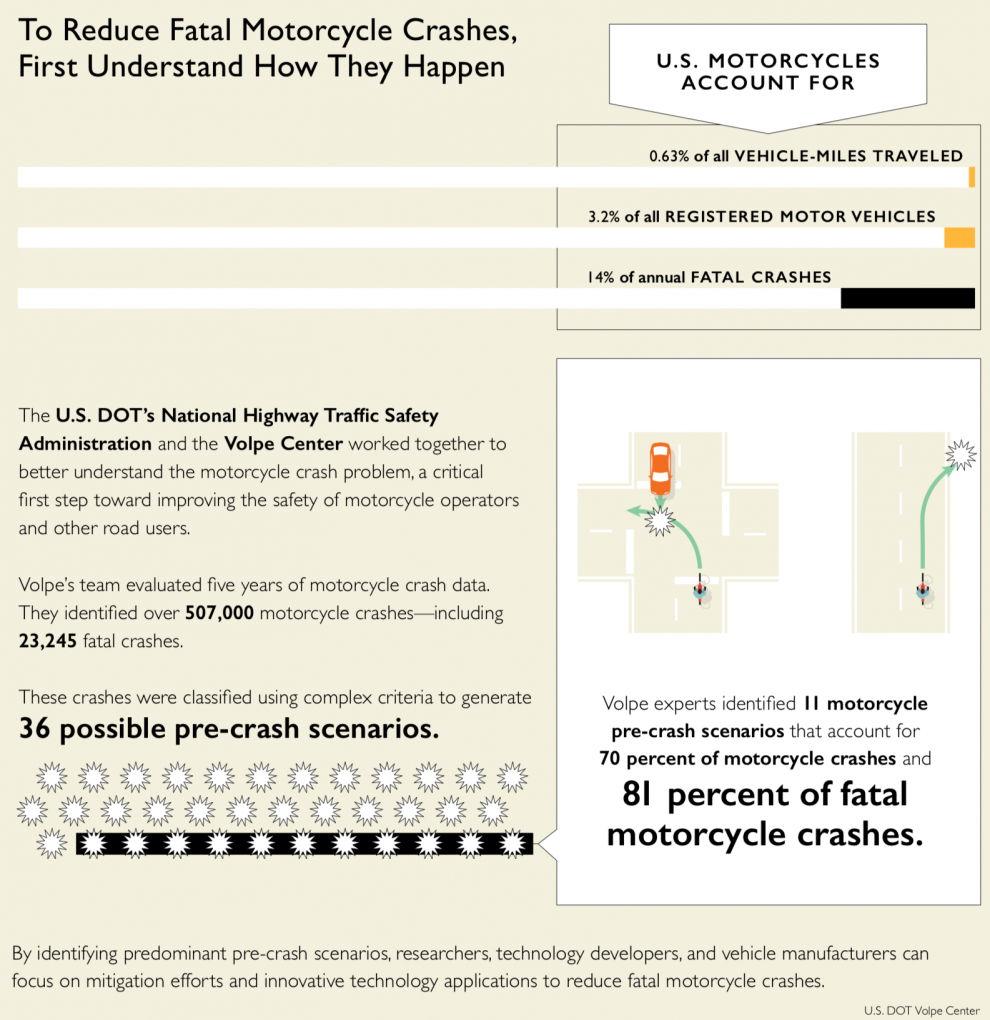 Investigating Low-Boom Supersonic Air Travel
The U.S. is a leader in developing supersonic flight technology, and Volpe Center noise experts are helping build confidence in low-boom flight technologies through sonic boom measurement, modeling, and minimization on behalf of NASA.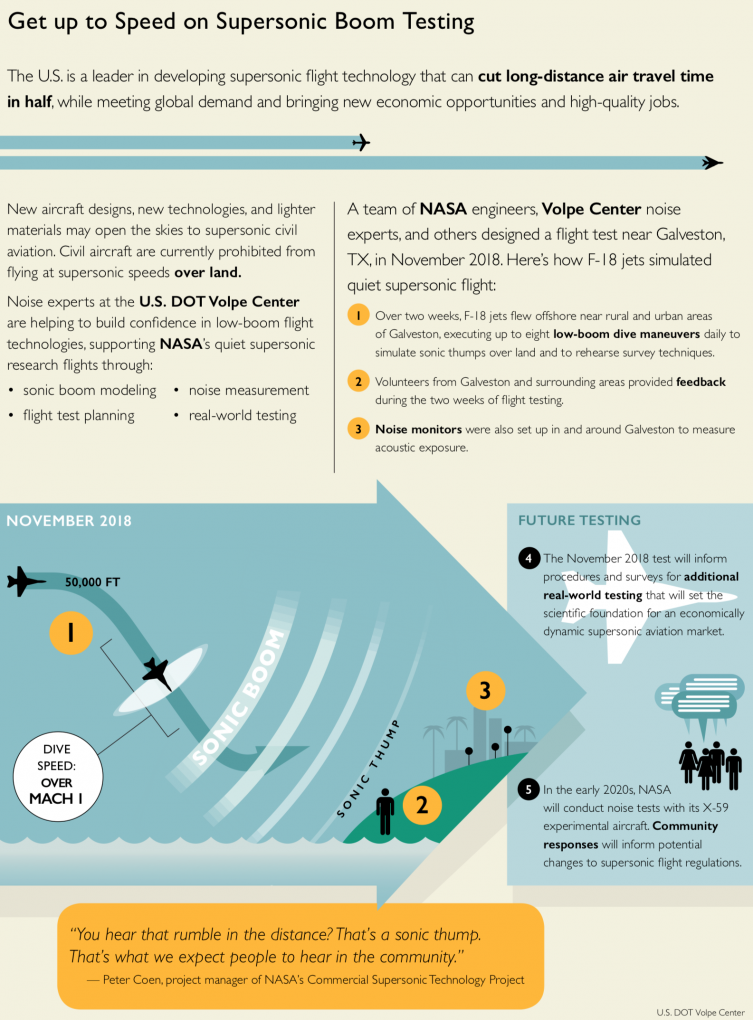 Freight and Fuel Transportation Optimization Tool Evaluates Transport Scenarios
The U.S. economy depends on the efficient movement of goods, including critical energy commodities. Government agencies are working to understand changing transportation needs and potential impacts. This will lead to improved federal policies and regulations and more efficient supply chains with fewer environmental and safety effects.
To analyze freight and fuel transport options, Volpe created the Freight and Fuel Transportation Optimization Tool on behalf of the Federal Aviation Administration, the Department of Energy, and the U.S. Navy's Office of Naval Research.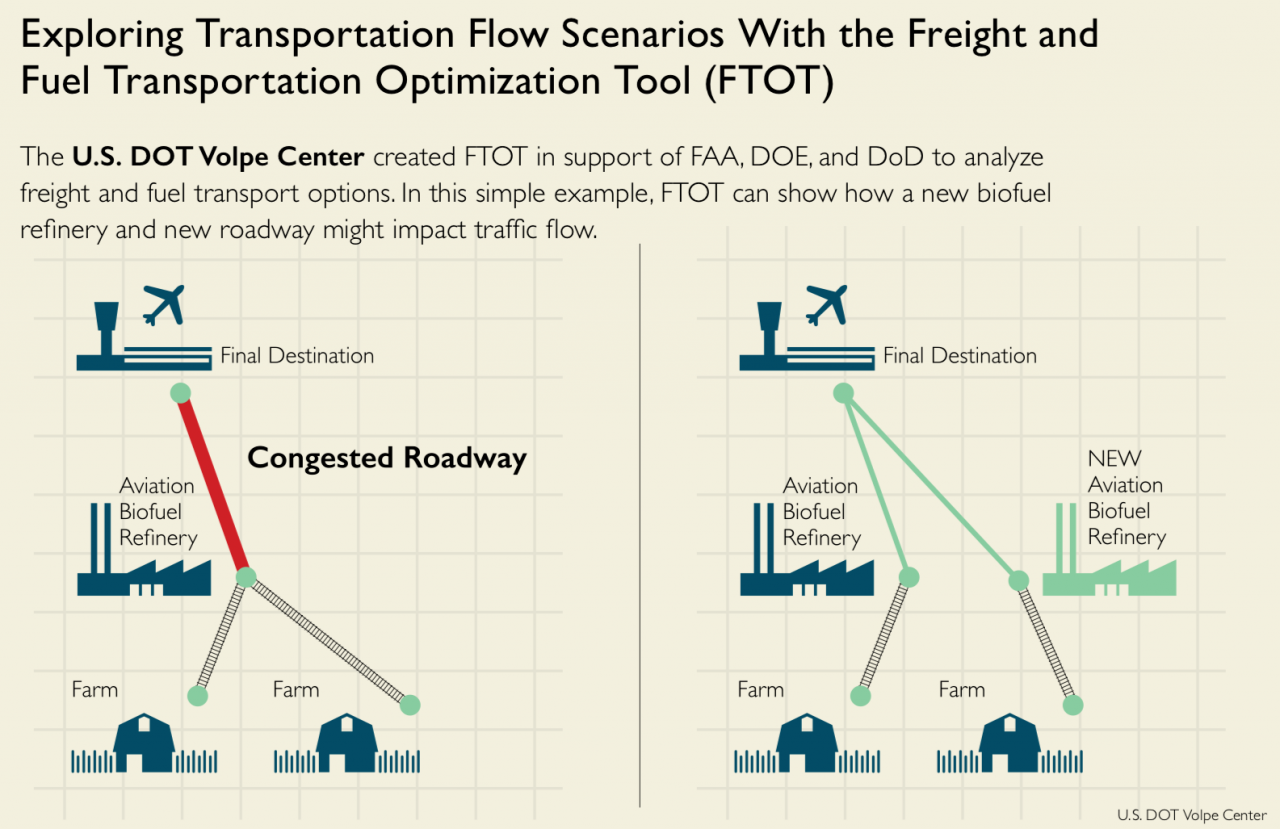 These highlights are only a sample of the groundbreaking work that the Volpe Center is pioneering. Read the Annual Accomplishments to find out more about how the Volpe Center works to transfer best practices, lessons learned, findings, and technologies in collaboration with USDOT modal sponsors and beyond.