U.S.DOT Urges the Public to Join the Heatstroke Awareness Challenge
On average, one child dies from heatstroke in a vehicle nearly every 10 days in the United States. Since 1998, there have been 764 pediatric vehicular heatstroke deaths – including 24 already this year.
The U.S. Department of Transportation's (USDOT) and the National Highway Traffic Safety Administration (NHTSA) and its partners urges you to take action to help prevent more tragedies. Learn the facts about heatstroke and spread your knowledge via social media during NHTSA's Heatstroke Awareness Challenge.
Parents and other caregivers must also understand when and how quickly heatstroke can happen. It doesn't need to be a hot day; when the temperature outside is as low as 60 degrees, the temperature inside a vehicle can reach 110 degrees. If a child's body temperature reaches 107 degrees, the child will die.
Now, take action: We're asking everyone — the public, our coworkers and USDOT and NHTSA, and all of our friends and safety partners — to participate in the Heatstroke Awareness Challenge. To be a part of this lifesaving campaign.
Create a 15-to-30 second video about the dangers of heatstroke;
Share your video on Twitter, Facebook, and Instagram;
Use the hashtags #HeatstrokeKills #CheckForBaby and tag @NHTSAgov or @USDOT to amplify the message.
On National Heatstroke Awareness Day, Tuesday, July 31, from 7 a.m. to 7 p.m., every partner will dedicate its social media channels to sharing content on the importance of preventing vehicular heatstroke—a true takeover. Social posts, Instagram images, and tweets with hashtag #heatstrokekills will be available for partners to participate and distribute this critical message.
Please join us in sending a powerful, loud, and unified message to save lives this summer.
For more information visit: www.nhtsa.gov/heatstroke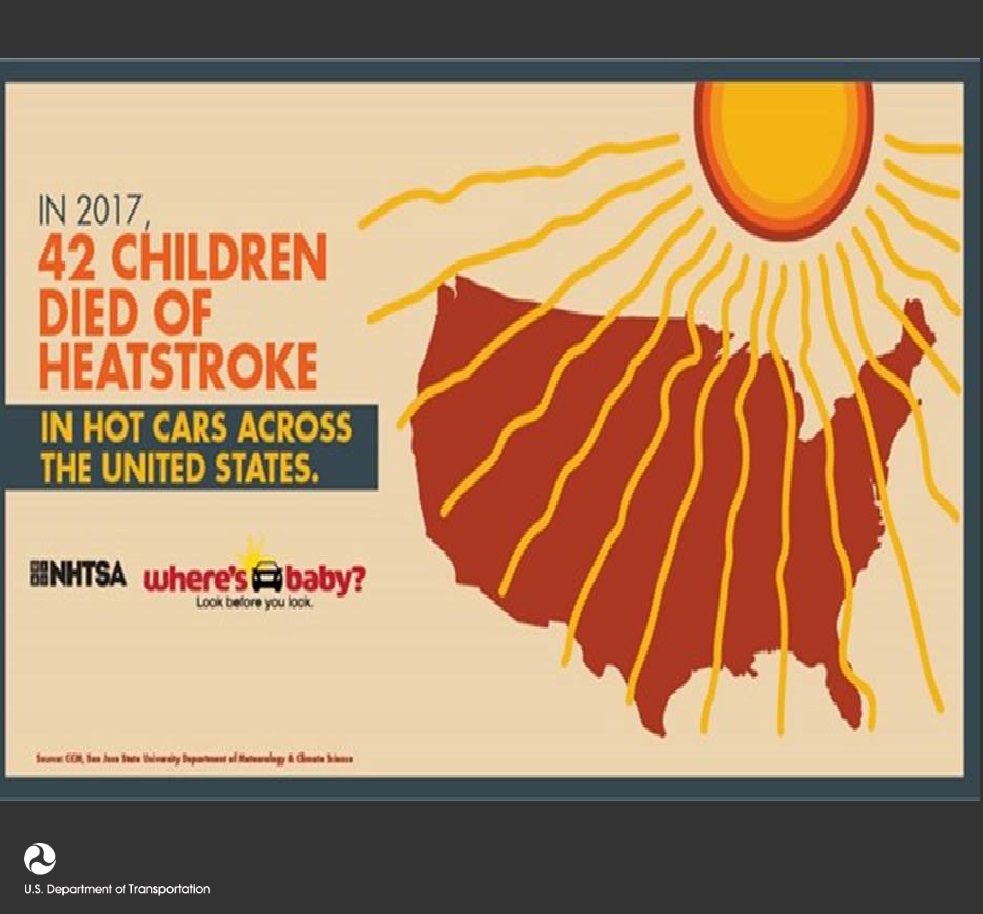 Want more #TransportationTuesday info? Visit our webpage.