This Summer, Make Sure You're Tire Wise
Each year, nearly 11,000 tire-related motor vehicle crashes occur on our Nation's roads—and nearly 200 people die as a result of those crashes. May 28 – June 3 is National Tire Safety Week, and NHTSA is reminding drivers that proper tire maintenance is essential for safety and for saving on the cost of vehicle ownership. Whether you're getting ready for a Memorial Day weekend road trip or just performing routine maintenance on your vehicle, don't forget that your tires are important for safety and savings.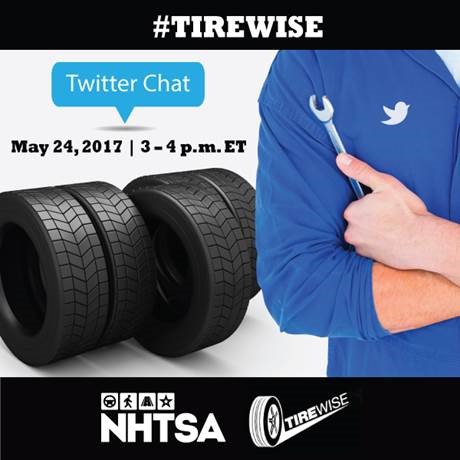 NHTSA offers everything you'll need to know about tires and safety on its TireWise website. It covers: buying tires, maintaining them, how age can affect their safety, and the important information contained on their labels. Want to be Tire Wise? Check out these helpful tips and look to the site for even more information:
Buying Tires: Know the size tires needed for your vehicle type and how the season will affect your tires. Winter, summer, all-terrain, and all-season tires offer different safety solutions.
Registering Tires: Register your tires with the tire manufacturer, online, or by mail to get information in the event of a recall.
Maintaining Tires: Tire health ensures your safety and your savings. Make sure your tires are properly inflated and rotated regularly to avoid a flat tire, blowout, or the tread coming off your tire. Proper tire inflation can save you 11 cents per gallon on fuel and can extend the average life of a tire by 4,700 miles.
Understanding Tire Labels: There's a ton of information on your tires that tells you about how they work with your vehicle and their effects on its performance. Understanding the tire labels for your passenger vehicle or light truck is important for maintaining and buying new tires.
Replacing Tires: You should stop using worn or aged tires for several reasons, including if a tire's tread is worn down to a minimum depth using the penny test, looking for signs of physical damage (cuts, cracks, bulges, etc.), or signs of irregular wear or other damage due to under inflation or overloading. If you notice any tire performance issues, such as failing to maintain proper tire inflation pressure, noise, or vibration, consult a tire service professional.
Keeping Tires Green: Underinflated tires reduce your vehicle's fuel economy and increase the amount of greenhouse gases and other pollutants that fossil fuel burning vehicles release into the air.
Tire safety and maintenance are especially important for 15-passenger vans. NHTSA research shows that 15-passenger vans have a rollover risk that increases dramatically as the number of occupants increases from fewer than five to more than ten. Excessively worn or improperly inflated tires can contribute to this danger. So take special care if you drive or ride in one of these vehicles. Inspect the tires and check tire pressure before each use.
Still have questions? In advance of National Tire Safety Week, NHTSA is hosting a Twitter chat today, May 24 from 3 - 4 p.m. ET to provide information to consumers and vehicle owners on how to be smart when it comes to their tires. Experts will be available to answer questions.
Follow the conversation using the hashtag #TireWise. Feel free to mention @NHTSAgov in any of your tweets and we will get back to as many questions and comments as we can! Remember to include #TireWise in your comments so others can follow along with the conversation, too.
This Memorial Day weekend, as you head out with family and friends, stay safe—and save money—by staying Tire Wise. For more information, visit https://www.safercar.gov/tires/index.html or https://www.nhtsa.gov/equipment/tires.
# # #