Safely Integrating Drones into the National Airspace
Posted by the U.S. DOT's Volpe National Transportation Systems Center
The FAA projects that by 2021, the fleet of hobbyist and commercial remotely piloted aircraft (RPA) will reach 4 million.
However, there are several technical, operational, and regulatory challenges related to integrating routine RPA operations in the National Airspace System (NAS). The most prominent obstacle is the inability of an RPA operator to see-and-avoid other aircraft, as required by federal regulations. Approved mitigations for the absence of a see-and-avoid capability, such as a ground-based visual observer or a visual observer onboard a chase aircraft, are not always practical and frequently limit the number and type of missions RPAs can execute.
"Without a human pilot onboard, every drone is by definition incapable of complying with the federal regulation to see-and-avoid other aircraft," said Jason Glaneuski, Chief of the Air Traffic Management Systems Division at U.S. DOT's Volpe Center. "Our team has spent several years tackling this challenge, researching solutions for drone operators that fulfill their operational needs, while also complying with FAA's rigorous safety standards." 
The Volpe Center, in partnership with the U.S. Air Force (USAF), MITRE, and Raytheon, is developing a Ground-Based-Detect-and-Avoid (GBDAA) proof-of-concept (POC) capability that detects aircraft in the vicinity of an RPA by fusing aircraft position data from many types of ground-based radars and displaying those positions in real-time. This enables RPA operators to detect-and-avoid traffic at an equivalent level of safety as a manned aircraft pilot's ability to see-and-avoid traffic. This work furthers the transportation and logistics enterprise by advancing capabilities to facilitate routine operations of RPA within the NAS.
Previous GBDAA POC configurations have focused on supporting the operation of larger RPAs such as Predator, Reaper, and Global Hawk. An GBDAA POC configuration at Springfield-Beckley Municipal Airport (KSGH) in Ohio enables RPAs that are too small for detection by local surveillance radars to use GBDAA capabilities.
Unlike previous GBDAA POC configurations, the configuration at KSGH is installed in a Mobile Command Center, and can be driven via roadways to the airfield. The Mobile Command Center is being evaluated for its capability to provide additional flexibility for configuring and deploying GBDAA solutions at airports and other locations that lack the infrastructure needed for a standard configuration.
GBDAA provides a promising solution for the U.S. DOT, USAF and other branches of the military, along with states and municipalities, to more seamlessly conduct critical missions and testing of new technologies related to RPAs. As a result of this project, the Air Force Research Laboratory, the state of Ohio, and commercial operators will be able to safely test a wide range of RPAs within the operational NAS without being constrained by typical measures for seeing-and-avoiding.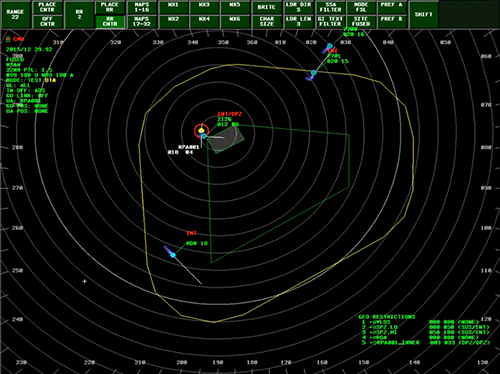 This GBDAA user interface is configured for air traffic operations near KSGH. The green zone shows the operation area for the drones, the yellow zone is where incoming aircraft are being monitored, and the blue dots show real-time positions of aircraft.