Safe Cars Save Lives: Check for Safety Recalls
The U.S. Department of Transportation's National Highway Traffic Safety Administration is reminding motorists to check their vehicles for open recalls as part of its Safe Cars Save Lives Check for Recalls campaign. Consumers nationwide are urged to check for recalls frequently and to sign up at NHTSA.gov/Alerts to be notified if your vehicle is affected by a future recall.
Visit NHTSA.gov to find out if your car or truck is under recall. Search using your Vehicle Identification Number (VIN). Your search result will tell you in your car or truck is currently included in any safety recall.
Call your local dealer to schedule the free repair if your vehicle is under recall.
To help build recall awareness, a suite of safety videos to help inform consumers on how to check for recalls, how vehicle recalls and investigations work, and important safety information on what every vehicle owner should know.
US DOT and NHTSA continue to advocate for the safety of consumers and encourages motorists to visit NHTSA.gov/Recalls for information related to their vehicles and to contact NHTSA online or by calling the agency's Vehicle Safety Hotline at 888-327-4236.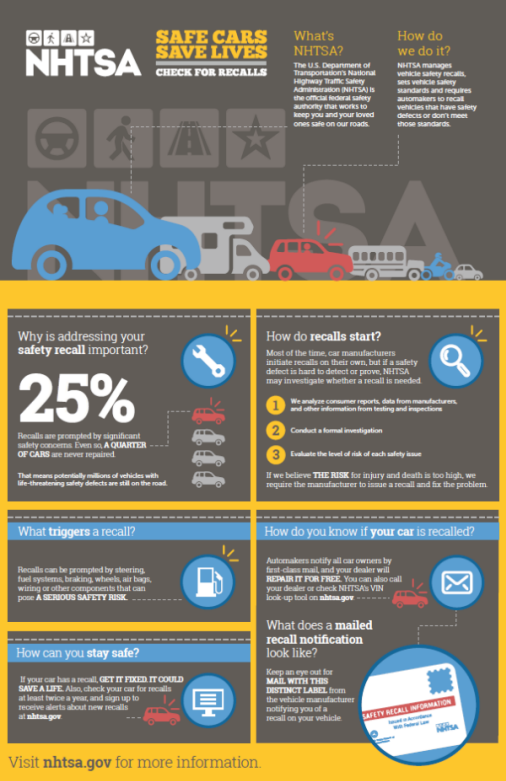 To see more #TransportationTuesday graphics and topics, visit our webpage.