President Lincoln, Transportation Engineer
Posted by FHWA Acting Deputy Administrator Butch Waidelich
All week long, America is celebrating National Engineers Week to honor the countless contributions made by engineers to modern life. It's an annual tradition that should remind us all that engineering and technology are only as good as the people behind them.
Our national transportation architecture takes many forms – from America's oldest bridge, the 320-year-old Pennypack Creek Bridge in Philadelphia, to the nearly three-mile-long Anton Anderson Memorial Tunnel (also known as the Whittier Tunnel) in Alaska, which helped the U.S. Navy defend the Pacific Ocean during World War II – as do America's engineers.
One of the unlikeliest was a man who wasn't an engineer at all. Born in Kentucky, he worked at times as a rail-splitter, a postmaster and – briefly – as a professional wrestler. After his experiences riding a flatboat up and down the Mississippi River between Indiana and New Orleans, he realized the struggle some boats had in avoiding trouble when rivers were too shallow.
At only 22 years old, according to various accounts, this young man took a flatboat from Beardstown, Ill., to New Orleans in early March 1831. The county was so flooded as to make traveling by land impracticable, so they bought a large canoe and floated down the Sangamon River in it. Before the flatboat could get to the Illinois River, it was stranded on a milldam and began to take on water.  
Years later, on his way home to Illinois, his boat got stuck on a sandbar. According to a witness, "The captain ordered the hands to collect all the loose planks, empty barrels and boxes and force them under the sides of the boat. These empty casks were used to buoy it up. After forcing enough of them under the vessel she lifted gradually and at last swung clear of the opposing sand bar."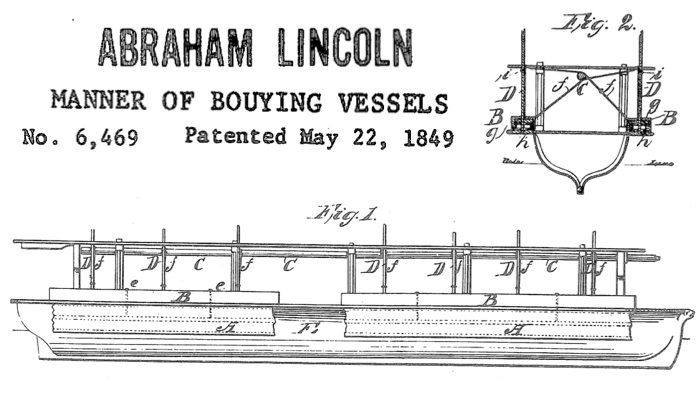 His years of experience, and continued thinking on the matter, led the young man – now 30 – to an idea that led to him inventing a special system of baffles to help boats in similar predicaments by inflating an airbag, of sorts, within the vessel's bottom.
Though the invention was never applied to any vessel, so far as we know, the man the world eventually came to know as President Abraham Lincoln – a self-taught transportation engineer.
On May 22, 1849, the young Lincoln earned his first and only patent – U.S. Patent #6469 – and remains the only U.S. President to have one.
We remember The Great Emancipator for so many things – his honesty, his commitment to ending slavery, his tragic end – but during National Engineers Week, we also take time to remember his contribution to transportation engineering.