No Matter How You Get There, Travel Safely this Thanksgiving
With Thanksgiving weekend almost upon us, the roads and skies will be filled with record numbers of travelers. The U.S. Department of Transportation would like to provide you with information that will keep you safe this holiday season.
As air fares fall, Americans are increasingly opting for air travel. In fact, 4.27 million Americans will be flying this holiday weekend, up 5.4% from last year. Fortunately, the Department has rolled out its redesigned and streamlined airline consumer website, which advises passengers on aviation consumer and civil rights matters. Be sure to familiarize yourself with this vital information while planning your trip.
Before you take to the air, remember to pack safe and leave hazardous materials out of your luggage, including commonplace items such as lithium batteries, lighters, aerosols, and e-cigarettes. FAA's Pack Safe Website has a detailed list of what is and is not safe to bring, and remember the general rule: When in doubt, leave it out!

For many, the holiday weekend can mean drinking and late nights out. Unfortunately, this makes Thanksgiving one of our nation's deadliest holidays on our roads. According to the National Highway and Traffic Safety Administration (NHTSA), over 800 Americans were killed between 2013 and 2017 during the Thanksgiving holiday period, and 55% of all crashes occurred at night. Remember that you are responsible for the simple choices that can either save or destroy lives, so buckle up and have a plan. The difference between a safe, fun night and a DUI can be as simple as calling a taxi, a sober friend, or using a ride share service. And if you see a drunk driver on the road, protect yourself and your community by contacting law enforcement with your report.  Give your loved ones something to be thankful about and "Make It to the Table: Don't Drink and Drive this Thanksgiving Eve."
During your drive, it is also likely that you and the 48.5 million Americans hitting the roads will encounter railroad crossings, which are hotspots for accidents. 95% of injuries and fatalities occur at railroad crossings or are due to trespassing, and almost all of them are preventable. Don't fall victim to an easily avoidable tragedy. Check your surroundings and look both ways before approaching a rail crossing, and familiarize yourself with the Federal Railroad Administration's (FRA) railroad crossing laws.
No matter how you travel this holiday weekend, the U.S. Department of Transportation is committed to your safety. The Department would like to remind all Americans to plan accordingly, arrive safely, and to have a Happy Thanksgiving holiday.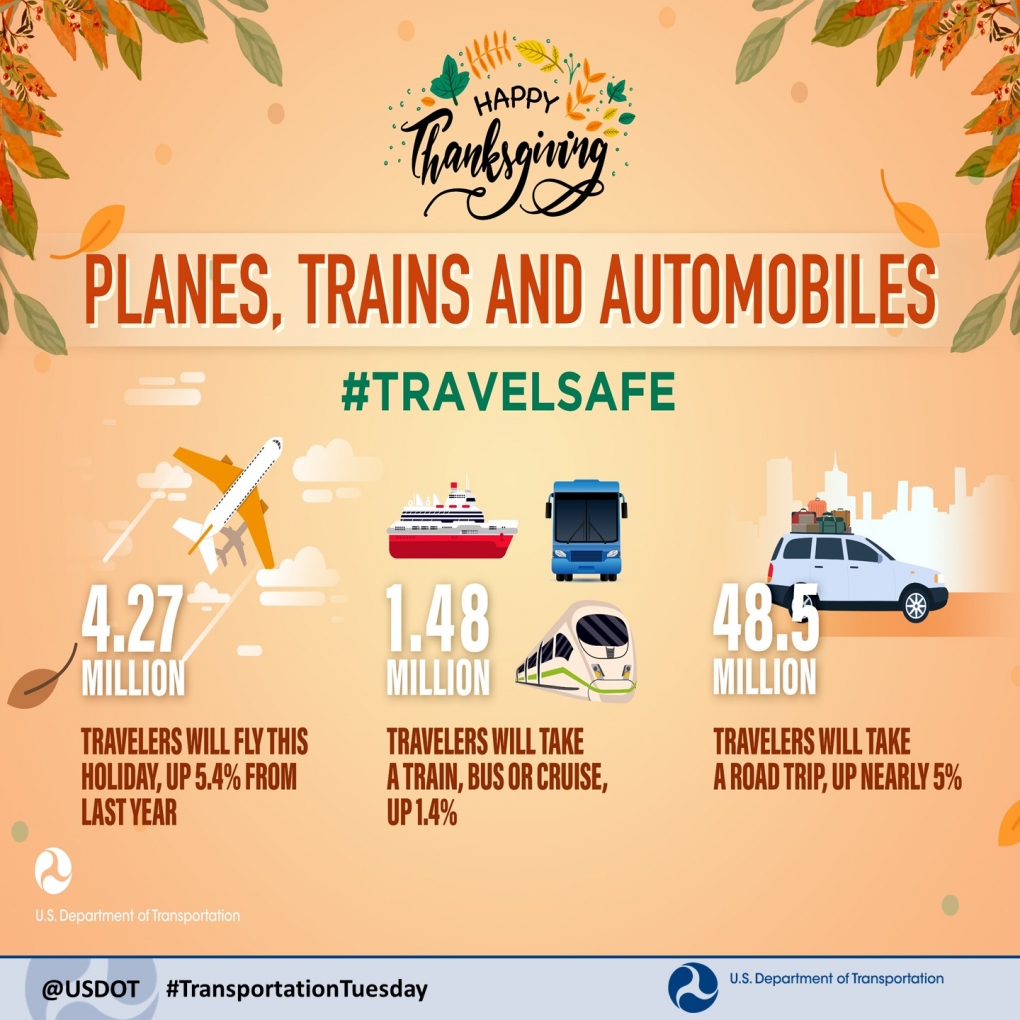 Want more #TransportationTuesday info? Visit our webpage.