National Maritime Day 2018
Posted by Rear Admiral Mark H. Buzby, Administrator Maritime Administration
Each year, on May 22nd, the United States celebrates National Maritime Day.
Now in its 85th year, the U.S. National Maritime Day's focal point is our people. In 1933, Congress declared May 22nd as National Maritime Day, to recognize the first successful transoceanic voyage under steam propulsion, which took place in 1819. Without mariners, the event would never have happened.
Maritime Day is a time-honored tradition that recognizes one of America's most important industries. Ceremonies and celebrations throughout the country will recognize Maritime Day and the people our nation, surrounded by oceans, relies on. National Maritime Day is a day to pay special tribute to merchant mariners and to the benefits that the maritime industry provides to this country and to all who live here.
It was the merchant marine and American shipyards that were vital to victory in World War II. Of the over 250,000 members of the American Merchant Marine who served their country, more than 6,000 gave their lives. Hundreds more were detained as prisoners of war, and over 730 U.S. merchant ships were sunk or damaged.
Then, as now, the United States Armed Forces could not fight a war overseas without the merchant marine and commercial ships to carry the equipment, the ammunition, and the other supplies our men and women serving in uniform need.
The United States has always been a great maritime nation. From our origins as 13 British colonies, and through every period of peace and conflict since, the merchant marine has been a pillar of this country's foundation of prosperity and security. The men and women of the merchant marine power the world's largest economy and strengthen our ties with trading partners across the globe, all while supporting our military by shipping troops and supplies wherever they are needed.
Here in Washington, D.C. at the Department of Transportation's headquarters, the Maritime Administration is sponsoring an observance of Maritime Day, a solemn ceremony honoring veterans of the merchant marine and those who gave their lives in service to the United States. That observance has been held every year since 1970, and I am proud to uphold tradition and honor the merchant marine in our ceremony today.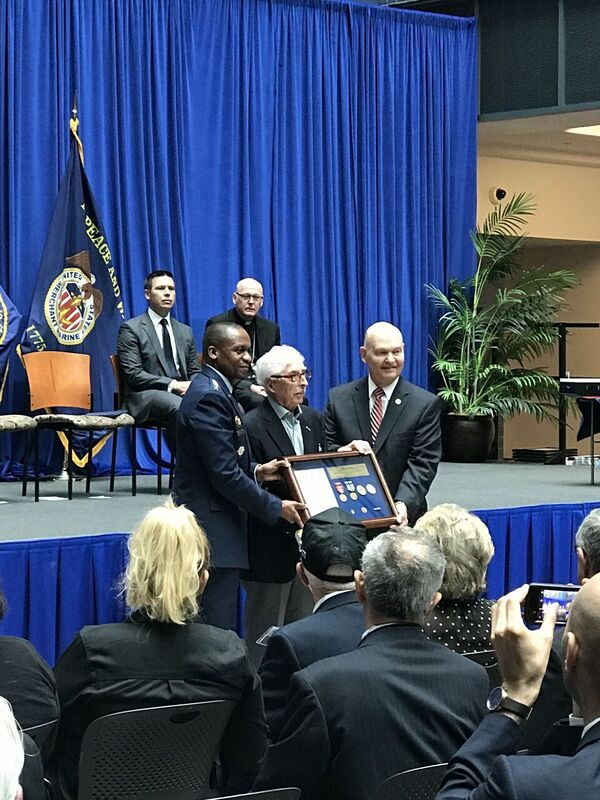 Merchant Mariner and WWII veteran, William E. Tiernan (center) is presented with several awards by USTRANSCOM Commander, General Darren McDew (left) and Maritime Administrator Mark H. Buzby (right).