National Heatstroke Prevention Day: Where's Baby? Look Before You Lock
Today is National Heatstroke Prevention Day. To help raise awareness and prevent the deaths of children in hot cars, the National Highway Traffic Safety Administration (NHTSA) and many safety partners will dedicate their social media channels to sharing content on the importance of preventing vehicular heatstroke. Social posts, Instagram images, and tweets with the hashtags #HeatstrokeKills and #CheckForBaby will be available for partners to participate and distribute this critical message.
On average, one child dies from heatstroke in a vehicle nearly every 10 days in the United States. Since 1998, there have been 764 pediatric vehicular heatstroke deaths – including 29 already this year.
Please join us in sending a powerful, loud, and unified message to help save lives and prevent these tragedies from occurring.   
For more information visit: www.nhtsa.gov/heatstroke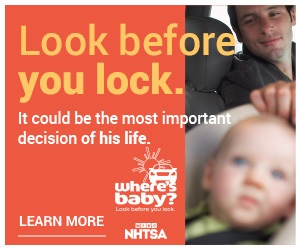 Want more #TransportationTuesday info? Visit our webpage.