Milepost 0 – Deadhorse, Alaska
Deadhorse, Alaska – 250 miles north of the Arctic Circle – is about as far outside the DC Beltway as you can be, in every respect, and still be in the United States. Deadhorse's semi-arid tundra, 10:00 p.m. sunsets and astounding array of wildlife that I'm told exists in the adjacent area (including caribou, polar bears and musk oxen) were the backdrop for an interesting and informative visit last week to the Trans-Alaska Pipeline System (TAPS) at Prudhoe Bay.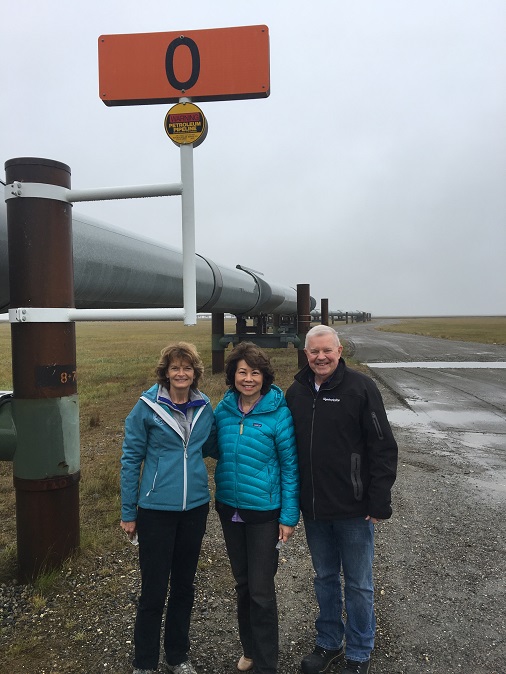 U.S. Senator Lisa Murkowski, former USDOT Deputy Secretary Vice Admiral Tom Barrett, and PHMSA's Acting Regional Director Kim West accompanied me to TAPS Pump Station 1 and Milepost 0. Due to the low volume of oil coursing through the 48-inch pipeline, now at 25 percent of what it once pushed through (more than 2 million barrels daily in the 1980s), wax is deposited in the pipes which needs to be cleaned out like fat in a coronary artery.  We were shown a mechanical "pig" which is inserted into the pipeline and accomplishes the cleaning task as it is propelled along by the flow of oil. Afterward, we had lunch with several USDOT stakeholders and learned about the challenges of moving goods and freight in Alaska through the single highway running north to south from truckers who also had appeared in "Ice Road Trucking," the History Channel television show.
Just about every transportation mode was experienced firsthand, including extensive briefings on the Port of Anchorage, Port of Juneau, and the Alaska Marine Highway System.  We received marathon briefings during a rail journey on the Alaska Railroad to the former gold mining town of Girdwood and a bus ride back to Anchorage. U.S. Senator Dan Sullivan hosted a Transportation infrastructure forum at which Alaska DOT Commissioner Marc Luiken, local officials, Native Alaskan leaders, representatives of various non-profit community and Alaskan corporations and organizations and other stakeholders briefed me and regional USDOT officials on the state's transportation needs and challenges. A number of panelists and observers, including leaders from Matsu Borough and Northwest Arctic Borough commented on the unique challenges of remote Alaska. We also met an expert in a mode of transportation not listed in USDOT's organizational structure: John Baker, a native Alaskan community leader and winner of the 2011 Iditarod. 
Much of what we heard during our travels echoed conversations earlier in the week in Omaha, Nebraska. Alaskans are eager and hopeful for infrastructure legislation and permitting reforms that would allow important projects to come to fruition sooner and with substantial savings to taxpayers. The President's recently announced Executive Order on streamlining permitting was very well received. I also had the pleasure of delivering the news that the long-stalled Sterling Highway project is being advanced after the Department of Interior consented to a land exchange. And I reported that the Federal Register will post a notice that Alaska will be one of six pilot states authorized to conduct environmental reviews under the National Environmental Policy Act (NEPA).
Like most people I've known who have travelled around Alaska, the usual superlatives seem inadequate to convey the experience, do justice to the magnificent landscape and fully capture the impressive spirit of the people who make this special place home. I'm grateful to all those we met with for sharing their insights and knowledge and providing further inspiration to do good work on their behalf at USDOT.