Know What's Below. Call 811 Before You Dig
At the Department of Transportation, your safety is our first priority. We understand the urge to get outside in the summer sun and tackle your home improvement projects. But before you jump in to expanding that flower bed, planting that shrub, or redoing the deck, remember to call 811 before you dig.
When you call 811, the federally designated call-before-you-dig number, you protect yourself and others from unintentionally hitting underground utility lines. There are millions of miles of buried utilities beneath the surface of the earth that are vital to everyday living like water, telecommunications, electricity and natural gas.
811 helps homeowners and professionals avoid damaging these vital utilities. When you make the free call to 811 a few days before you dig, you'll help prevent unintended consequences such as injury to you or your family, damage to your property, utility service outages to the entire neighborhood and potential fines and repair costs.
For more information and resources please visit:  http://call811.com/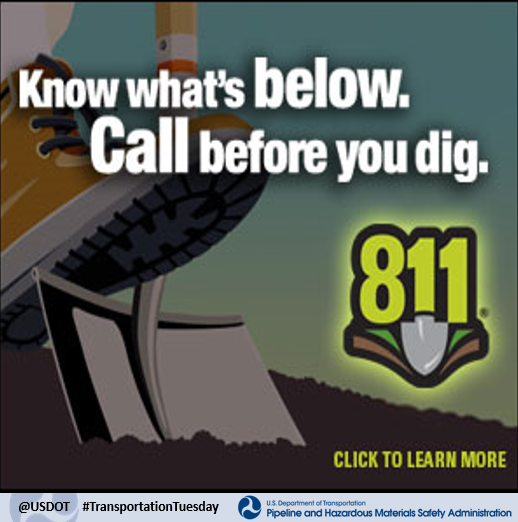 Want more #TransportationTuesday info? Visit our webpage.