FTA Announces Funding for Low and No Emission Bus Programs
Residents of cities and towns across the country deserve clean air and efficient transit options. America's entrepreneurs and forward-thinking transit manufacturers have the knowledge and innovative spirit to make both a reality.
To help local transit agencies connect with American companies that can help them better serve their residents, the U.S. Department of Transportation's Federal Transit Administration (FTA) announced in April that $55 million in competitive grant funds will be available through FTA's Low or No Emission (Low-No) Bus Program. The Low-No program supports projects sponsored by transit agencies to bring advanced, American-made bus technologies such as battery electric power and hydrogen fuel cells into service nationwide.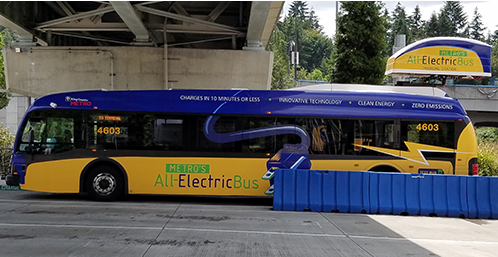 Projects will be evaluated by criteria defined in federal law and in the Notice of Funding Opportunity, including the applicant's demonstration of need; the project's anticipated reductions in energy consumption compared to standard buses; and local strategy and capacity for implementing the project.
Eligible projects include purchasing or leasing low- or no-emission buses, acquiring low- or no-emission buses with a leased power source, constructing or leasing facilities and related equipment (including intelligent technology and software) for low- or no-emission buses, constructing new public transportation facilities to accommodate low- or no-emission buses, and rehabilitating or improving existing public transportation facilities to accommodate low- or no-emission buses.
"FTA is proud to support investment in the next generation of transit buses, which will help riders across the country get to work, school, and other important destinations more comfortably and efficiently," said FTA Executive Director Matthew Welbes. "The Low-No program exemplifies FTA's commitment to spurring innovation in public transportation."
Below is an infographic explaining the Low-No Bus Program.