Freight Shipments Projected to Continue to Grow
Posted by Bureau of Transportation Statistics
Nearly 18.1 billion tons of goods worth about $19.2 trillion moved on our nation's transportation network in 2015, based on the current Freight Analysis Framework 4 (FAF4) estimates. On a daily basis, 49 million tons of goods valued at more than $53 billion are shipped throughout the country on all transportation modes. Trucks are by far the single most-used mode to move freight around the country, moving 63 percent of the tonnage in 2015 and 68 percent of the value.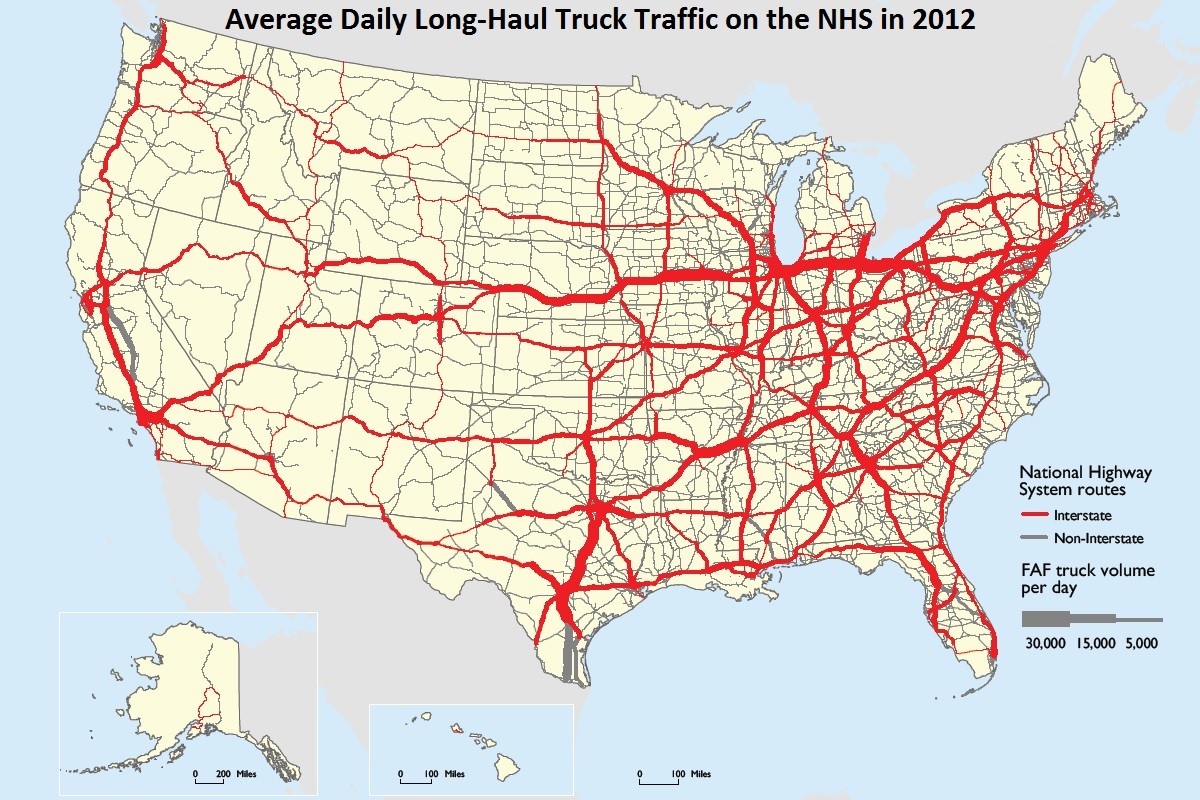 The FAF4 projections show that total freight tons moving on the nation's transportation network will grow 49 percent in the next three decades, while the value of freight will almost double, increasing by 98 percent. By 2045, total freight on all modes – air, vessel, pipeline, rail, and trucks – is projected to reach 27 billion tons while the value is expected to grow to $38 trillion.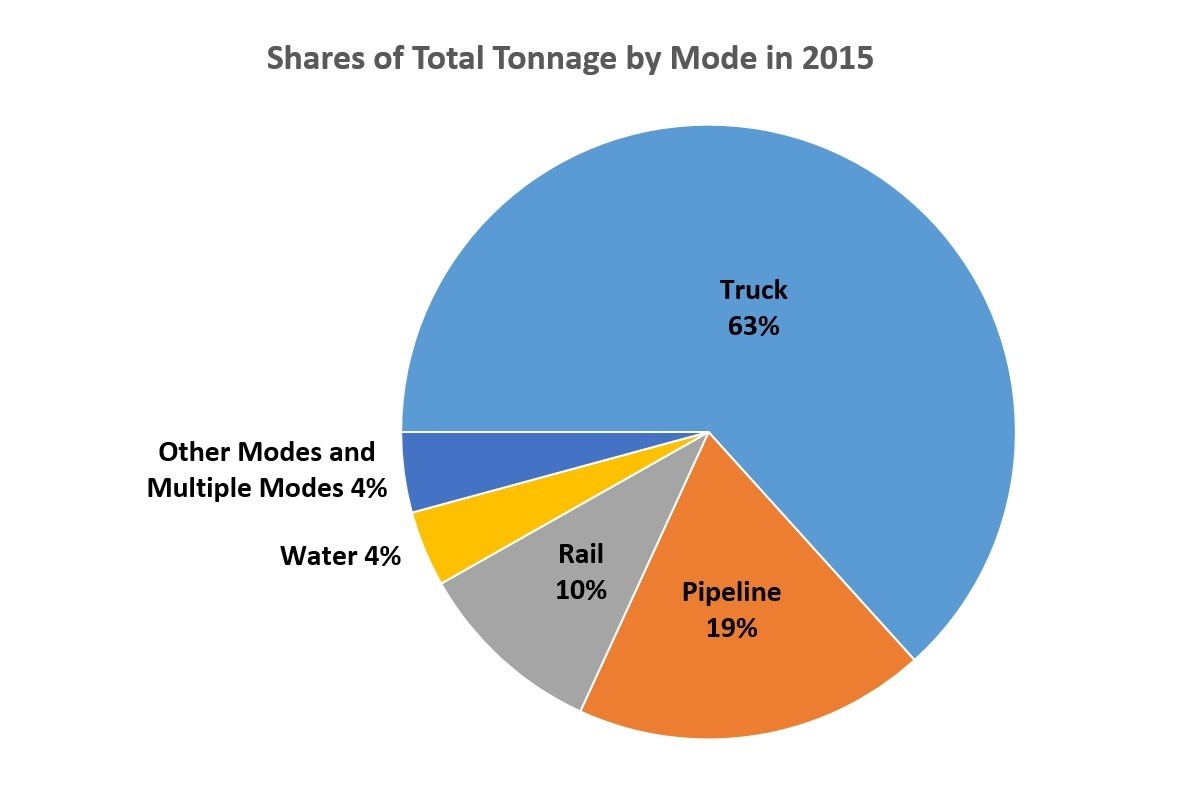 The FAF4 historical series adjusts the previous base years of 1997, 2002, and 2007 to align with the standards of the current generation of the program, which is based on the 2012 Commodity Flow Survey (CFS) and related data for that year. It enables transportation planners, transportation researchers, and academics to make more informed decisions about the future by having context about the recent past. Combining the estimates for recent years with the projections for upcoming decades, stakeholders can analyze freight flow trends from 1997 to 2045.
The time series shows that the value of freight fully recovered to the 2007 level in 2015, primarily because of the growth of international freight to and from the U.S. The total value of imports and exports returned to 2007 levels by 2012, and has continued to grow at 3.7 percent per year between 2012 and 2015. Freight tonnage slipped after the recession, and as of 2015 it was still below 2007 levels. However, it is expected to resume a level of growth over the next 30 years that is similar to the growth in the decade before the economic downturn.
FAF data are also used to model truck flows on the National Highway System. This product is used to generate network flow maps depicting highway truck volumes for 2012 and 2045.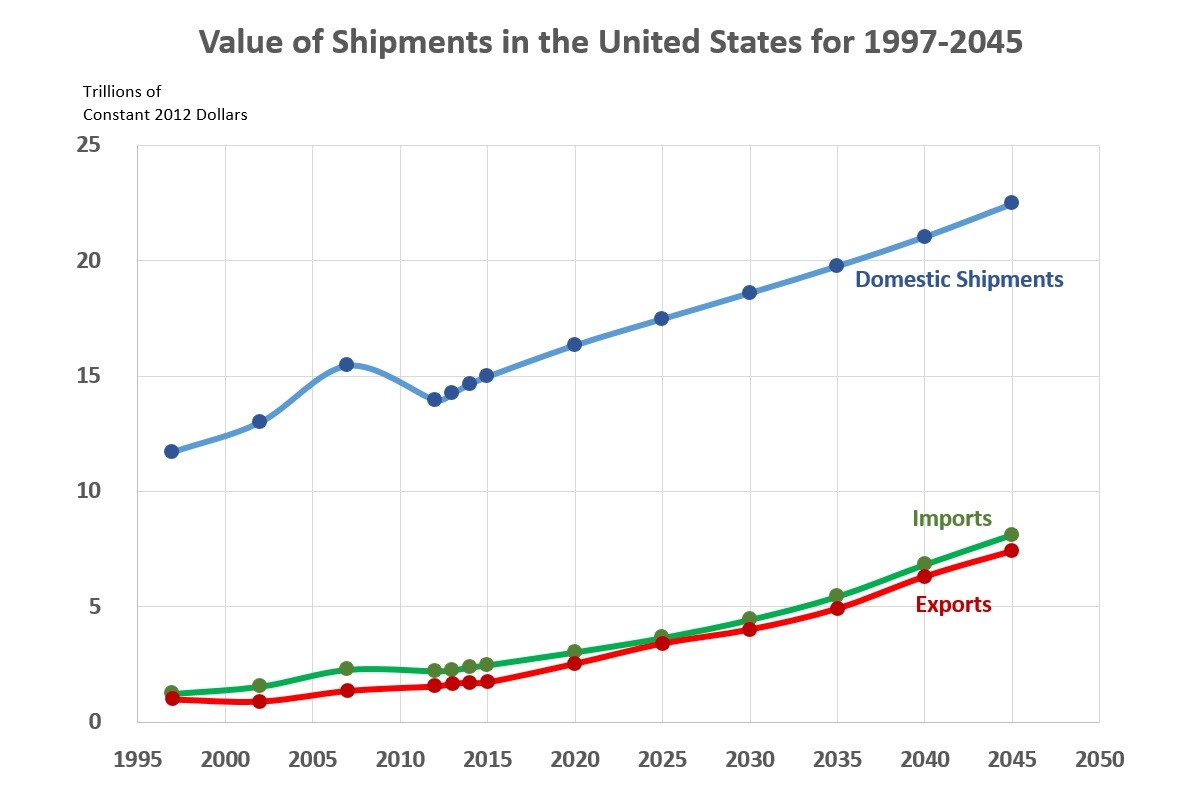 The FAF has its roots in the CFS, which is conducted jointly by the Bureau of Transportation Statistics (BTS) and U.S. Census Bureau. The FAF program is jointly administered within the U.S. Department of Transportation by BTS  and the Federal Highway Administration.